The Return of the Jedi era in Canada (1983-1984) saw a marked slowdown of released items. Canadian items sported the familiar Star Wars / Return of the Jedi logo on the English side of its ROTJ packaging, and the La Guerre des Etoiles: Le Retour du Jedi on the French side. The playsets' boxes had English printing on one side, and French printing on the other; a tell-tale sign that the item is Canadian.
Jabba the Hutt
&nbsp&nbsp - &nbsp&nbsp
Ewok Village
---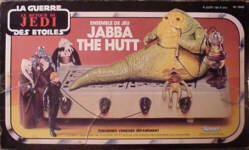 Jabba the Hutt:
The Jabba the Hutt playset in ROTJ box.
---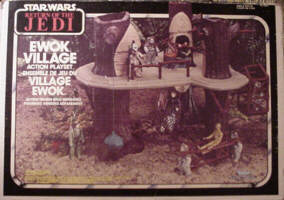 Ewok Village:
The Ewok Village in ROTJ box. The Ewok Village would be the final playset released in Canada. The Canadian Ewok Villages came with an "unpainted" drum that was totally grey. The box style used for the Ewok Village deviated from the normal, "all-over" graphics used on most of the larger Canadian Star Wars trilogy items. A large sticker was used on a white, ink-etched box.
---