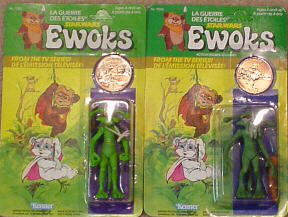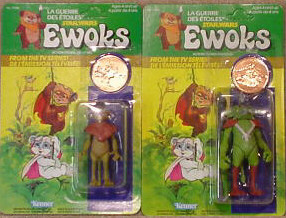 Ewoks Action Figures:
By the time the Droids and Ewoks action figures were released in Canada, the Star Wars line of toys was quickly losing steam. To keep production costs low, Kenner Canada sealed the first release of Ewoks figures on generic Ewoks cardbacks as seen above. The names of the individual figures were not even printed on the cards. Canada did not receive all of the generally released Ewoks action figures that could be found in the U.S. and other countries at the time the Droids and Ewoks animated series was being broadcast on television. Some notable Ewoks absentees from the action figure aisle in Canadian stores included Wicket and Logray, however, Canadian children were relieved to find that Sears Canada offered these two Ewoks in a special 2-pack available through the Sears Wishbook during the Christmas season of 1985. The 2-pack was simply comprised of both figures on their respective American cards in a mailer box shown below.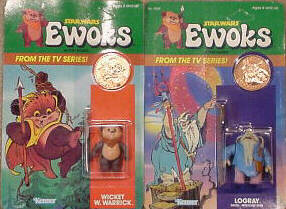 The Droids and Ewoks animated series has a close relationship with Canada. Both series, as well as the animated introduction of Boba Fett in the Star Wars Holiday Special were created by the talented people at Nelvana, based in Toronto, Ontario.
---