The 2004 World Gathering
A plenteous place is Ireland for hospitable cheer,
Uileacán dubh O!
Where the wholesome fruit is bursting from the yellow barley ear;
Uileacán dubh O!
There is honey in the trees where her misty vales expand,
And her forest paths, in summer, are by falling waters fanned,
There is dew at high noontide there, and springs i' the yellow sand
On the fair hills of holy Ireland.


Anonymous
***************************************************************************************
First, a party.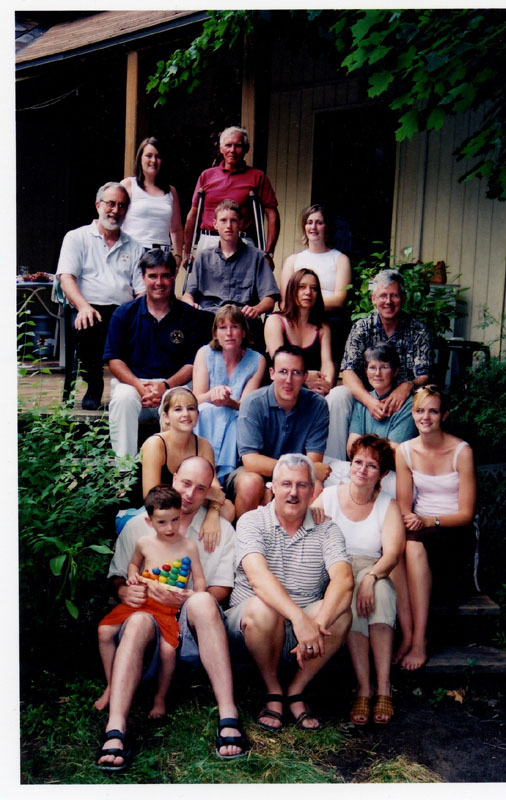 The previous summer, Colm McAteer, former Goban Saoir, had come over to Ottawa for a visit. Any excuse for a party will do of course, and Colm wanted to meet some of the local McAteers. Here is most of the group who attended. It must have been a good party, because everyone in the first row showed up in Ireland the next year. Colm is wearing the navy blue "Clan Mhac" shirt with crest, third row down from the top.
Our plan was to get over to the 2004 World Gathering of Clan Mhac an t'Saoir. The gathering was to be held in the beautiful rolling hill country of Ballyholland, in the south of County Down. Here is some typical Ballyholland countryside - those same fair hills of holy Ireland.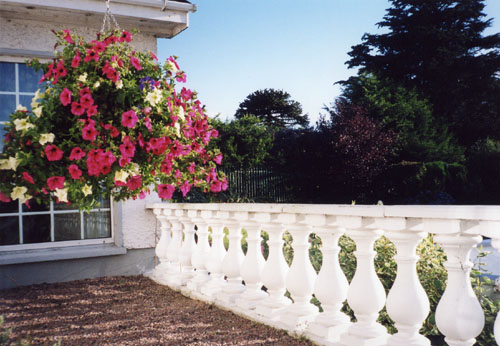 Finally arrived in Ireland. We all stayed at a B&B in Newry, because Ballyholland is too small to have much in the way of commercial accommodations. Here is the view from my room. Note the rounded, dome like conifer in the background. We have nothing like that at home. It may surprise you to see palm trees, or similar tropical plants thriving in Irish gardens. In 1994, we stayed at Ashton House, and there was a huge palm tree beside the building. Its trunk must have been nearly two feet in diameter. Ireland has a very moderate climate, and palms survive well.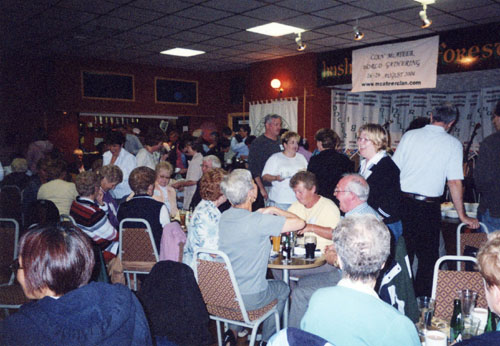 Opening night at Foresters' Hall. We had feared that our U.S. cousins would stay away in droves this time, because of the tension in the world. By nine o'clock the place was packed, so our worry was for naught. However, attendance may have been down a wee bit, because you could actually make your way between the tables, for much of the evening.
They promised us a "light supper." Perhaps I missed the light part of it, because I went home stuffed! Beware of "light" Irish snacks.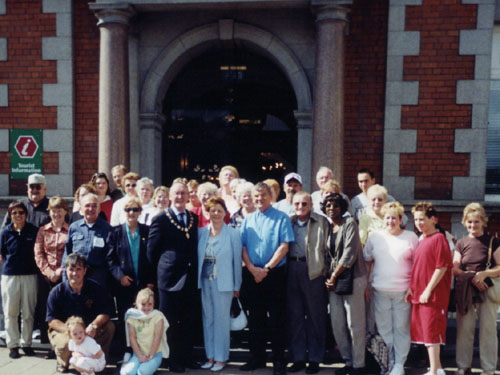 The next morning was the civic reception. It was a bit early for some of us (yours truly among them), especially those who arrived in Ireland the previous day. But some brave souls made it. Here they are with the mayor, who is wearing the chain of office over a blue suit.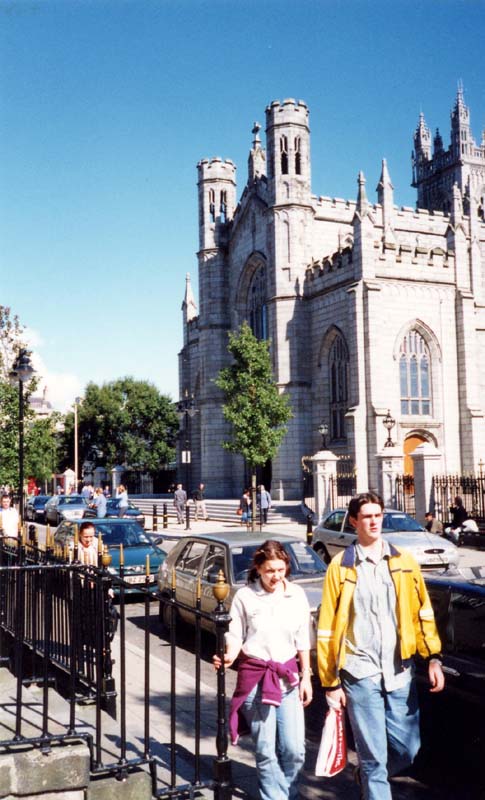 Main street Newry. Here is an older shot of the cathedral, near the end of the business district of Hill Street.
Newry has reinvented itself. Even people who had seen the town as recently as three years ago were struck by the transformation. Gone is the tension of former years, and now the city (for Newry was recently upgraded to city status) hums with activity and a newfound optimism. When you enter a shop, friendly faces welcome you. The city has cleaned itself up, painted its doors and fences, and flower boxes have sprung up everywhere. You might say Newry has blossomed. It was a welcome change for us, even if it has brought climbing real estate prices with it. Congratulations Newry!
Newry sits at the source of Carlingford Loch, and in former times that waterway was guarded by Highwater Castle, seen here. The city is surrounded by natural beauty. Behind us "The Mountains of Mourne sweep down to the sea" as the song says. Further out is the wild and scenic coastline of the Irish Sea. To the south and west, rolling hills surround the city. The tourism boom has not yet caught up with Newry, but with so much going for this city, can it be far behind?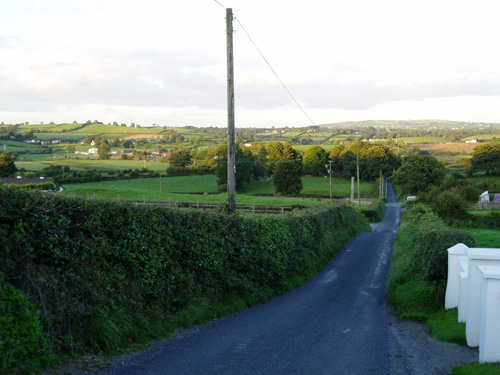 This is Ballyholland Road, in front of Foresters' Hall, and we gathered here to begin our walking tour of Ballyholland. Of course we were not to follow the pretty little road. Colm was to have us off into the fields in less than a hundred metres, plowing through thorns, puddles, brush, nettles, and "cow sign." Those who survived were stronger for it!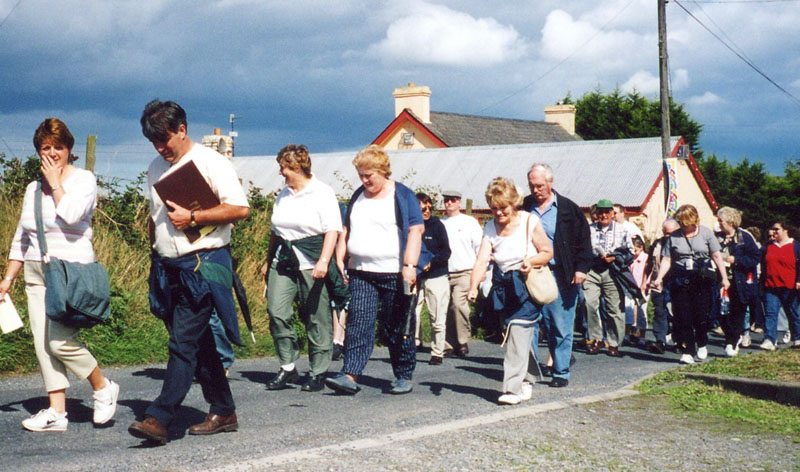 Here are Jacqueline and Colm leading the group off on the walking tour of Ballyholland. Note the menacing clouds. One look was enough for most, and so the turnout was small. Luck was with us though, and as the day wore on, the sky cleared, and we had a beautiful afternoon. The building in the background is Foresters' Hall.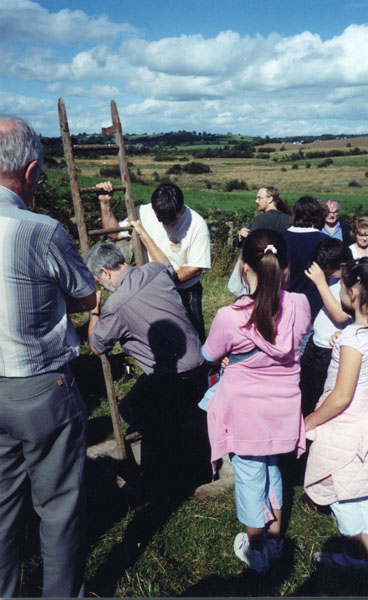 One of the sites we visited was this ancient "souterrain" believed to date from the sixth or seventh century. A souterrain is a sort of storage cellar. It is accessed by a small manhole, and it runs underground for some distance, a bit like a hall. The walls are stone, and the roof is made of long stones that span the gap between the walls.
Serious food storage facilities were a must in Ireland. Farming began here four thousand years before the birth of Christ, and by 3,000 B.C., much of the good arable land in Ireland had been brought under the plough. In fact, archaeologists exploring peat bogs have dug up ancient ploughed fields, and the ploughing is remarkably similar to that practised today. It seems our neolithic ancestors knew about ploughing to avoid soil erosion. Good farming methods and its natural fertility made Ireland an agricultural power by Roman times, and the Romans are known to have traded with the Irish. As in other northern lands, Irish agriculture must shut down for the winter, and so the Irish must have been very efficient at storing their produce for long periods.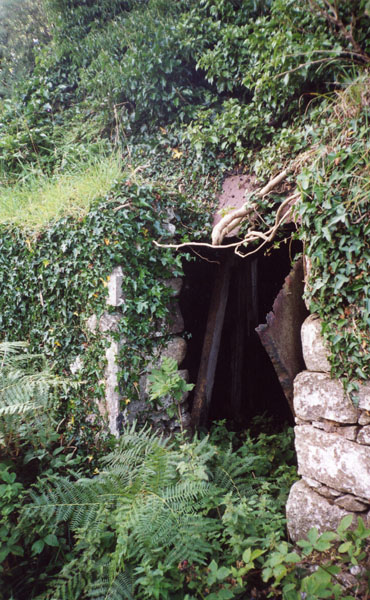 A last minute change in plans had us walk up the hill to Mass Rock through the fields. The original plan had been to walk around the mountain on the road. It was a change for the better in a way, because it allowed us relive a bit of history.
During "Penal Times" Catholics were forbidden to practice their religion on pain of death, and so they would celebrate Mass in some secluded place. Of course, to get there they would not have paraded along the roads. They would have followed trails through woods and along hedge rows, keeping carefully out of sight. That is just what we did. We walked along cow paths, climbed fences, and tunneled through brush all the way up the hill.
Near the summit we passed one of the many deserted houses which are so frequent in Ireland. When the famine struck, people who were not evicted from the land by greedy landlords were often forced by hunger to emigrate. Millions just walked away from their houses to seek a living elsewhere. Here is the door to someone's house, standing open as we pass. Too frequent a sight to interest anyone but the animals. This house is thought to have been home to the "Butcher" McAteers. "Butcher" is a nickname of course. There are so many McAteers in the area, people use nicknames to tell them apart. Possibly someone in that branch of the family was a butcher, or more likely there was an amusing incident involving a butcher. Either way, they are long gone. Somewhere in the wide world, there is a family for whom this door marks the end of an their Irish epoch, and the beginning of a long voyage.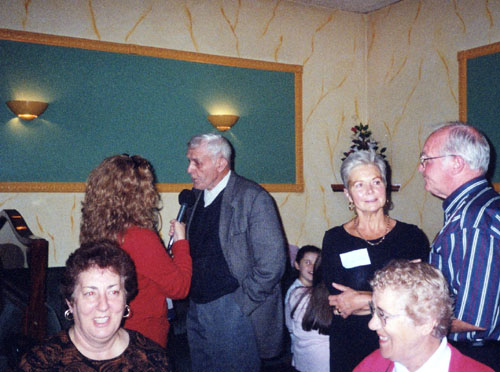 Here a cute young thing from the BBC interviews Uncle Patrick. She will not be disappointed. Uncle Patrick is a true bard - a wonderful story teller and poet, and a fine host I might add. Colm and I dropped in to visit him and his family, late one evening. It was too dark to see much, but I thought his cottage was in a small valley, surrounded by trees. We all sat around the stove, gabbing and drinking tea and catching up on all that had happened since the last gathering. At times like that, the world seems a much smaller, more comfortable place.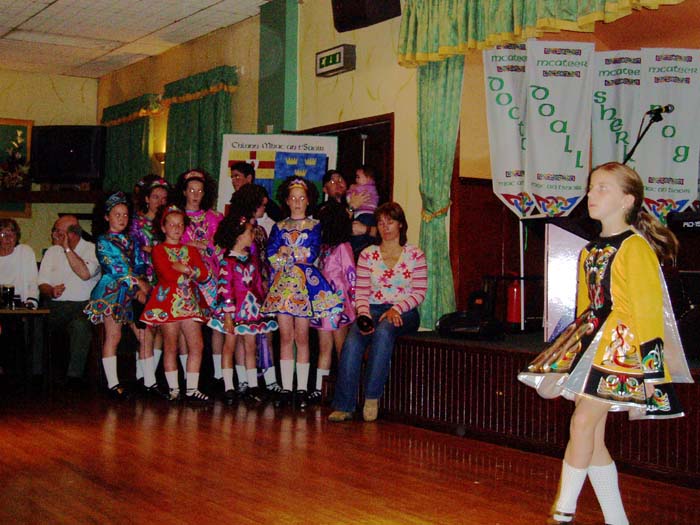 After the walking tour, we all gathered for an evening of Gaelic music, dance, and story telling. Here, a very nervous Deirdre McAteer, from the U.S., dances while another group of young dancers waits to perform. Deirdre has competed all over North America, and she has won a lot of competitions. It wasn't the size of the crowd that made her nervous. It was the thought of performing before the family. She needn't have worried. She was flawless, and everyone was delighted with her.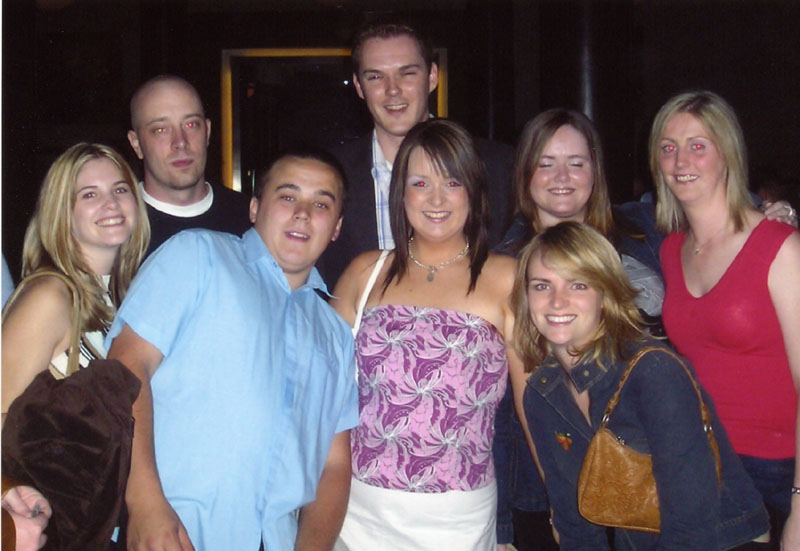 Some of us went "out on the town" and according to reports, the night life in Newry is really great. This group is either starting out, or coming home after an evening of night clubbing. Can you tell which? Our Irish web leprechaun, Cathy, colsed her eyes for the flash, but that may or may not tell you anything.
(Rumor has it that two and a half couples in this group have recently become engaged. That's all we're sayin' but remember, you heard it here first.)
This gathering was the first to have a good Francophone turnout. Three whose mother tongue is French, and three of whom we know, grew up speaking French. Two of the girls here speak English today, but their mother tongue is French. One of them is also fluent in Spanish.
We make this point for a reason. Anyone will tell you the Irish speak English. If that is generally true today, it is a recent development. The original language of Ireland is Gaelic, which is still spoken in many places today. Our ancestors left a Gaelic speaking Ireland centuries ago, and today they speak the languages of their new lands. Today there are Irish communities or "diaspora" all around the world. Some of our own clansmen in Canada speak only French, as do many Quebec Irish. Recently I spent a pleasant afternoon visiting Monsieur and Madame McCann, in Quebec City. The McCanns lose no time in telling you they are Irish and proud of it. They are not alone. For many years, the editor of Quebec's most respected French newspaper, "Le Devoir," was the aloof and enigmatic Claude Ryan. When the prime minister of Ireland arrived for a visit to Poland, she was greeted in Gaelic by a group of Poles whose families had preserved the old tongue since leaving Ireland centuries earlier, during the "Flight of the Earls."
Our website, as far as we know, is the only multi-lingual Irish site. We offer four languages - English, French, Spanish, and Polish. The world-wide scattering of the Irish has left tiny isolated groups of Gaelic speaking Irish adrift in the midst of other cultures, where they were soon absorbed. We carry these languages in an effort to reach any non-English speaking cousins who might otherwise never hear of us.
One of the pleasures of driving in Ireland is stopping for flocks and herds. Here our bus stops for a group of ladies in the wool business. To be sure, everyone had to come thundering out of the bus, and out of their cars to take pictures. When it was all over, there was a line of vehicles parked on the highway, doors wide open, with everyone scrambling aboard - earnestly hoping a huge cement mixer doesn't come full-throttle around the bend behind us. Our car was right behind the bus, so we didn't have far to run.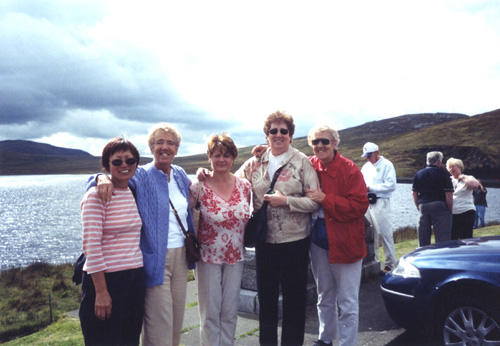 The bus tour took us up into the Mountains of Mourne behind Ballyholland, and one of our first stops was the new reservoir at Spelga Dam. That is always an awesome sight - a large lake surrounded by ancient, worn mountains, without a tree in sight.
Later we went on to the coast opposite Newry, where the town of Newcastle was having a buskers' fair. There were the expected buskers, and dozens of crafts tables selling all kinds of interesting and exotic things. Surely we were not the only ones to know about it, because the town was so jammed with people and cars, it took forever to get in and out. If anyone has a photo of the fair, would they please send it to us. We weren't bright enough to take one ourselves.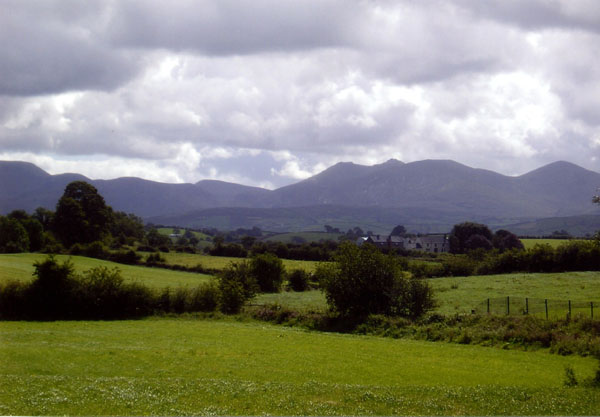 One day the kids drove up to the "Giant's Causeway." Here the mountains of Antrim rise in the distance as they approach the coast.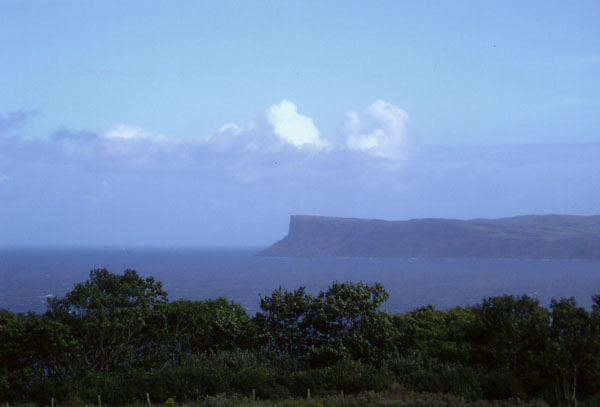 Finally, the rugged beauty of the Antrim coast. Here is a region of spectacular and unspoilt beauty. Did anyone else notice the beckoning hand in the clouds?
Jamie exploring a sea cave, carved by the waves. Such caves are common along the Irish coast, and it was in one such cave that Trattman discovered evidence of human habitation going back to 9,000 or 10,000 B.C. Later they served as temporary dwellings for our ancestors, evicted from their land. Where natural caves were not available, these refugees dug into the soft banks and built their own small shelters. It is said that during the Great Hunger, people passing in ships would see little fires all along the beaches at night.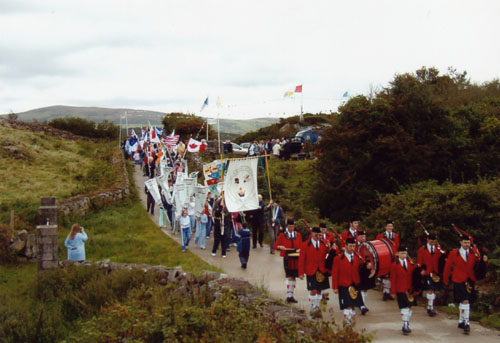 The family marches up to Mass Rock led by the Thomas Davis pipes. Note the Irish kilts worn by the pipers. They are a solid colour - never a plaid. It's not that we wouldn't wear plaid. In fact many McAteers wear the MacIntyre tartan on dress occasions, and if we had our own pipe band - well, who knows? The Irish though, did not wear plaid historically, and so Irish pipers usually wear plain kilts today.
Behind the pipes is the Clan Mhac' banner with crest, followed by pennants for each of the family nicknames, and then the flags of attending guests. A lot of quick running about and searching for flags has been done, with people arriving from every continent but Antarctica.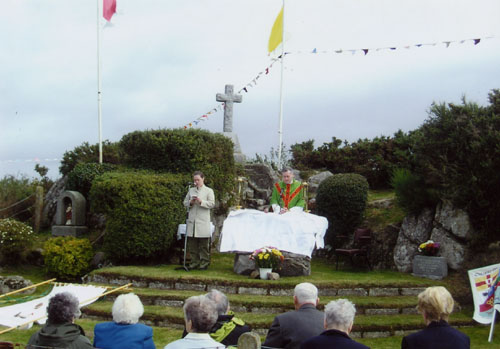 Mass Rock serves as an outdoor alter. It sits at the edge of a natural bowl, at the summit of a small mountain (note the ground rising behind the alter). Once in this bowl, you can not be seen from any other hill. Lookouts would have been posted around the lip of the bowl, to warn of any strangers approaching.
Mass Rock itself, and the ground around it has been changed to make it more church-like in latter years. In Penal Times, there would have been no visible sign that it was a church. That would have invited disaster. But a church it is, and it may be one of the oldest churches in the region. We know this land was consecrated at some early time, and it was probably never deconsecrated. Next to Clonmacnoise, founded by our own Saint Ciaran Mhac an t'Saoir, this must be the most sacred of family sites.
This time, the service was outwardly ecumenical, and all faiths took part in it. A tradition at these services is the prayer of remembrance for those who could not be with us. A list of names is placed on the alter at the beginning of the service, and at some point everyone joins in a prayer for the people mentioned. This is a beautiful and very emotional time for many. Here Majella McAteer sings and Fr. Andrew McMahon waits to celebrate Mass. His sermon was about the need for humility.
We do not misuse the word "ecumenical" here. Nearly all major world religions are represented in the family, as are most branches of Christianity. One member who attended an earlier World Gathering, is a devout Moslem who has made his pilgrimage to Mecca. Another is presently in Israel, studying to be a rabbi.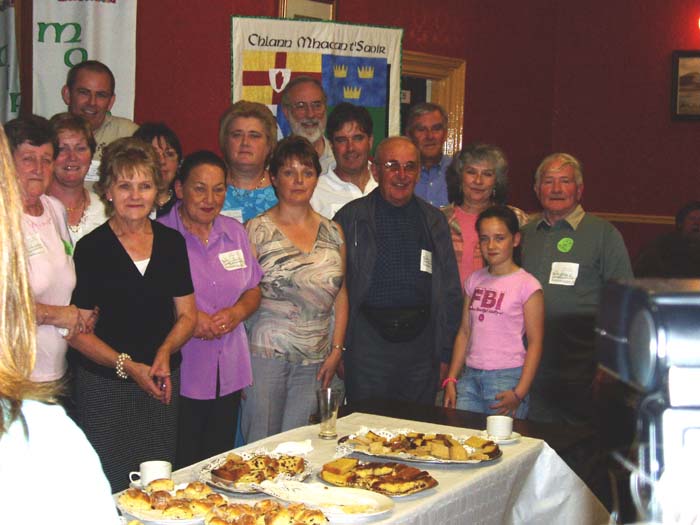 Some of the ladies responsible, surrounded by a larger number of hungry McAteers, stand proudly behind a table of home made desserts. Once the feeding frenzy began, this brave table did not have to bear its burden long. It was soon enough folded up and returned to its life of patient repose.
The Grand Ball was held at the Canal Court Hotel this year. This final flourish marks the felicific finish of four days of fascinating, fun-filled if faintly frenetic festivities. Five years will fly by before the next World Gathering. There is good news though. The Clan Committee received its first letter requesting information about the 2009 World Gathering, about a week later. We predict a good turnout in 2009!
(Photos by Christine, Richard, Sara, Robert, Jamie, Brian and Margo McAteer)
Homepage;
Top of page.
***************************************************************************************
Clan Mhac an t'Saoir
of Erin
"thought of mind, skill of hand, they are our own,
for we are Freemen of Cine Mhac an t'Saoir"