Planning Your LAN
---
Supposing you already have a router, and you acquire an NCF router/modem, there are several ways of connecting things. The "best" way for you can be driven by philosophy, features of the devices, and how much "stuff" you must accommodate.

---
My Setup as of Fri 07 Apr 2006 05:21:25 PM EDT

In my case, I migrated from a Speedstream 5200 "modem" with Sympatico, to the Speedtouch 546 with NCF (that choice was made before NCF offered the ST585). I was using a D-link Dl-604 router, with DHCP enabled.
I quickly discovered that having both DHCP servers enabled was a BAD THING (locking up etc).

My current set-up has the ST546 working as a router, with DHCP enabled. Plugged into it are:

The Dl-604 (DHCP disabled!)
Netgear PE102 Ethernet to Phone Line Bridge (HPN to another apartment 400 wire-feet away)
my web server computer (Linux)
laser printer

Plugged into the Dl-604 are:
our "main" (NT4) computer only!

After a lot of head-banging, I've (temporarily at least) given up trying to make the laser work (printing from both computers) while connected to the Dl-604.

The key to making the laser available for printing from both the Linux and the NT4 computers was plugging it into the ST546, and adding an entry to the IP Routing Table in the ST546.

Specifically, for a "Destination" (e.g. the printer's IP address) I needed to enter a "Gateway"

That is, the printer's address of 10.0.0.x is reached via the "Gateway" address of 10.0.0.138

The next change? Probably displace the Dl-604 router with a simple Ethernet hub. I want to provide an Ethernet feed for my notebook, and it might as well be DHCP via the ST546. TBA.
---

Revised Setup as of Sun 09 Apr 2006 05:23:37 PM EDT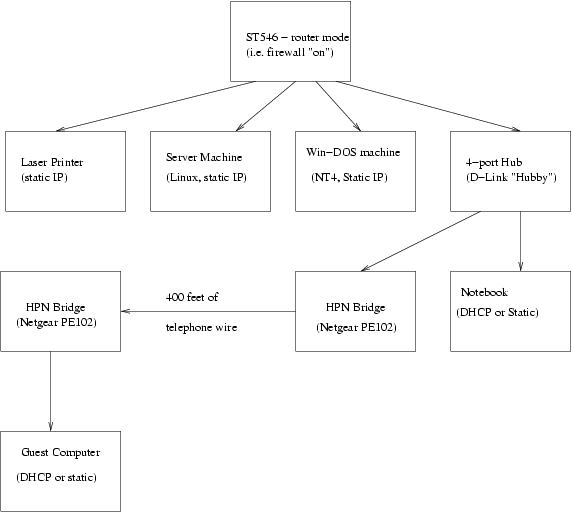 So, is a picture worth 1-kilo-word?


---
Here's something of potential use, if for some reason your ST585 is mounted elsewhere, such as right at the Demarcation Point:

David G. Robinson
Apr-02 12:04
I have a question for ST585 users: does the router management/configuration require that a computer be connected to the router via Ethernet during this operation, or can any computer perform these functions via a wireless connection?
If the latter, I would ASSUME that appropriate authentication and encryption would be employed. My limited wireless experience was a few years ago, and that router did require an Ethernet connection for these administrative tasks. But the ST585?

Brian Shouldice
Apr-02 19:00
You can access the st585 router management/configuration via a wireless connection as long as you are connected to it. Just open a web browser and input: 10.0.0.138 or 192.168.1.254 in to the address line. You should then be prompted for the modem username and password. If you have bought a DSL modem preconfigured from NCF you should consult the documentation that came with the modem for these.

I have both changed configuration options and done setups wirelessly before for the st585 without any difficulties.
---
More from the DSL list: