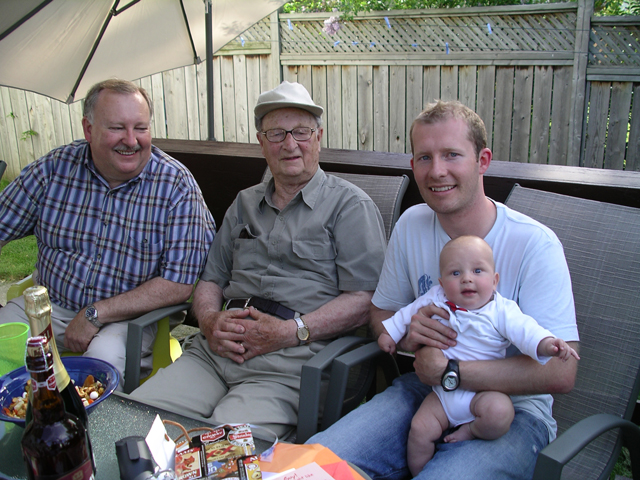 4 Generations: Shown from left, "Poppa" Chris Cope, "Great Grandpa" Lloyd Cope, "Daddy" Tyler Cope and "Max" Maximillian Hines Cope, born January 16, 2004 in London UK

My wife Lesley and I live in Nepean, a neighbourhood in the City of Ottawa, Canada's National Capital. I've got 3 pretty terrific kids, Tyler, Jessica and Melissa.

My son Tyler, is a graduate of Carleton University where he obtained a Bachelor of Computer Science (high Honours). Tyler was a partner in a firm called CleanCode, providing business and technical consulting services to North American and European private and public sector organizations. CleanCode specialized in portal implementation and custom enterprise web application development. Tyler is also co-founder of a company called Overlay.tv. Founded in 2007, Overlay.TV received its first round of VC funding that same year and has been evolving ever since. Overlay makes video click. The technology helps online retailers create, manage and deliver interactive video experiences to drive traffic, increase conversion and engage shoppers.

My eldest daughter Jessica graduated from Canterbury High School (OSSD) in 1998. Jess shares my love for "Wettin-a-line" Jess attended the Kemptville campus of the University of Guelph in the fall of 2007, taking a 2-year Diploma course in Agriculture. Jessica lives in Ottawa with her son Daniel.

My youngest, Melissa ("Mel" to her friends) graduated from Sir Robert Borden High School. in 2004 and went on to study Criminology at The University of Toronto where she graduated with an Honours B.A. with a Criminology major and History minor in the spring of 2007. Melissa lives in Toronto and works for Lynx Equity Limited, a Canadian-based manager of private equity funds.

I work in the Economic Development and Innovation Department for the City of Ottawa as an Economic Development Officer. I have been heavily involved in several "business friendly" projects at the City including broadband and connectivity projects set out in the City's Broadband Plan. in addition to the the rural broadband project I lead the city-wide toll-free calling telephone initiative to make the entire city following amalgamation a single telephone calling area. Recently, I lead a project to create Discover Ottawa, a Smartphone application intended to be a useful tool to learn about the City; what to do; where to go; what's happening, and when; where to shop; where to dine; where to have fun; and basically find out what, where and why Ottawa is great! The app is available for iPhone, Blackberry and Android. On October 31st this year, the Mayor launched Locate Ottawa an initiative that I spearheaded and am especially proud of. Locate Ottawa is an interactive internet mapping program that speeds up and simplifies the process of finding the optimal location for a business in Ottawa by providing public access to a range of valuable information. Users can search for available commercial buildings and sites, as well as generate site-specific demographic and business analytics reports. Currently I am working on plans to use Community Improvement Plans (CIPs) strategically in two areas of the City to incent development and create jobs.

Previously, I was Director, SmartCapital Special Projects at the Ottawa Centre for Research and Innovation or "OCRI".In that capacity, I spent four days per week at City Hall, working on community technology projects. In 2011, OCRI became Invest Ottawa I also Coordinated activities of ORCnet an organization of people and businesses working with the City's help, to deploy broadband in the rural communities of Ottawa and I was Executive Director of EduNET, a partnership of Carleton University, Ottawa Univerfsity and La Cité to provide Internet services to students.

I have a special connection with The National Capital FreeNet / Libertel de la Capitale Nationale From 1997 until the end of 2000, I was NCF's Executive Director. Soon after I ceased to be a member of FreeNet's paid staff, I continued my involvement with NCF and became a member of the FreeNet Board. In 2001 I was elected to the position of President and Chairman of the Board a position I held until 2012 when I stepped down as President, staying on as a Director.

I am a Director on the Board of

Telecommunities Canada Inc., an organization that represents and promotes the Canadian community networking movement at the national and International level. Since 2009, I have been on the Board of the Ottawa Humane Society. I am especially proud to have been on the Board through the process to launch a brand new facility in 2011 at 245 West Hunt Club Road. I was a member of the working group of the Eastern Ontario Broadband Coalition (EOBC) a group made up of community stakeholders who recognize the need to bring together all the organizations in eastern Ontario, working on the common objective of providing broadband connectivity to the majority of residents, businesses and institutions across eastern Ontario.

I am on the steering committee of The Millennium Learning Centres, a CAP network with 16 sites and until recently was on the Board of Volunteer Ottawa, where I chaired the Technology Committee and served on the Volunteer Learning Network. I am past Chair of the Nepean Environmental Committee, a citizen advisory committee of the former City of Nepean.

While my principal hobby is messing around on a computer, fishing is also a passion and most summer weekends, you'll find me at my favourite pastime, washing off lures behind my 14' aluminum boat, "The Basstub"

This site is always under construction - Check back often
---