Outdoor Murals of Ottawa Canada
Schools
Murals on Ottawa schools have as a primary aim the building of confidence and pride of students. Some were part of a Canadian Biodiversity Institute greening project, in which students plant gardens on school grounds to replace asphalt. Some were supported by Multicultural Arts for Schools and Communities. Several were painted on walls that had problems with graffiti. Most projects were spearheaded by the school principal.
They are organised from east to west.

[Map] Brother Andr&eacute Catholic Elementary, 1923 Elmridge. This mural celebrates the greening of the school, which includes vegetable gardens as well as flowers. The children are able to enjoy the harvest, and find out how delicious cherry tomatos are when eaten right off the vine. Every child in the school painted part of this wall on the front of the school; each points out their flower with pride. The top shows the size of the whole wall; a typical detail is shown below. Artist: Nicole Belanger and school children.


[Map] Jean Vanier Catholic Intermediate, 320 Lajoie. This mural was painted by grades 7&8 as part of school greening. Coordinating teacher: Christopher Card.



This appliqué decorates the play area of Jean Vanier.


[Map] Assumption Catholic Elementary, 237 Levis. This mural combines the school motto and the school board theme by expressing that "Caring for God's Creation Is Taking Care of Yourself, Each Other and This Place." The mural is instrumental in helping to demonstrate the pride that students and staff have in their school. It was also part of a school greening project with its symbolism of life-giving water and living things. The structure of an aboriginal long house roof ensures that all members of the school community are represented. Artist: Nicole Belanger and school children.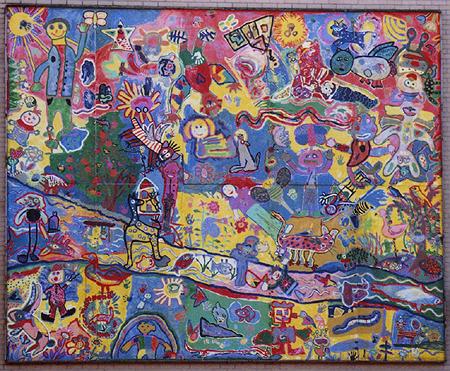 [Map] Ecole le Trillium, 140 Genest. Artist: Marie-France Nitzki and school children.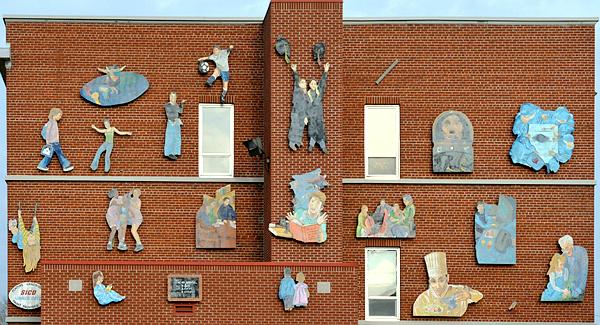 On the east wall of the school, a montage of educational activities: walking to school, music, dance, sport, reading, debating, cooking, computers, visiting grandparents, travelling the world, medicine, space travel, graduating. The high gloss coating used makes it difficult to see under most lighting conditions. Artist: Yvan Dutrisac.


[Map] Canterbury High, 900 Canterbury, Ottawa's arts high school, is covered with visual art inside and out, all student projects. As such, outside work is frequently modified or repainted by students on a continuing basis. This one on two adjacent walls of the school was done by Domenic Laporte, initially without formal authorization, but completed by him and other students with school approval.



This side retaining wall was done by Angela Nellis.




The rear wall of the school has been worked on by many students, over almost two decades.




[Map] Hilson Ave. Elementary, 407 Hilson. These murals began with the principal's concern that students were not engaging in enough physical activity. The first six are now mounted on the north wall, the seventh is on the south side where it is more exposed to sun and peeling a bit. Students from grades 4-6 selected images of physical activities, laid them out, mixed the paints and painted the panels under the guidance of artist and teacher Barbara Stein.


[Map] Woodroffe High School, 2410 Georgina. A 50 m previously graffiti-covered wall at the west end. Earl McRae wrote movingly about it for the Ottawa Sun. Artist: Richard King (formerly art teacher, now vice-principal), with family and students.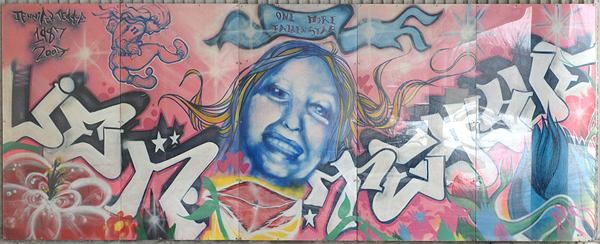 [Map] John McCrae High, 103 Malvern, in memory of Jennifer Teague, a student who was murdered in 2005.