Outdoor Murals of Ottawa Canada
Westboro
In Westboro, the murals are almost all produced by one exceptional artist, Shaun McInnis. The project was begun by Christine Leadman, then executive director of the Westboro BIA, to reduce graffiti. Sadly, no one makes the slightest effort to encourage people to see and appreciate them. Sight lines are non-existent for most, many are in small alleyways where even a panoramic lens can't see them in their entirety, they are often blocked by parked cars and, most devastating of all, any uncaring property owner can destroy them any time they wish, with no repercussions. Here, many major artistic contributions to our city can only be found on my Past Tense page.


[Map] Start your walk at the corner of Richmond and Kirkwood. This beautiful courtyard is just south of Richmond. Artist: Shaun McInnis.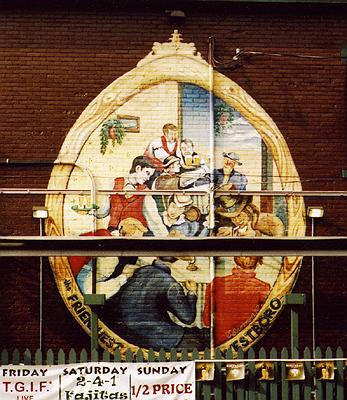 [Map] Walking west, this is on a pub at the corner of Tweedsmuir that has covered half of it up by an awning. Artist: S.Sammon.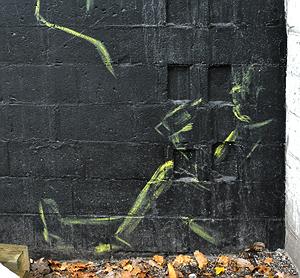 A few doors further on, this mural symbolises a band playing at the annual WestFest; the large image is of the first artist to sing at the first WestFest. The detail at bottom right is a joke on an employee of the body shop that then occupied the site who took very frequent absences. Blocked by construction almost since it was painted, then defaced by a dumpster, it is now defaced by privately owned signs and parking meters of Gilad Parking. Artist: Shaun McInnis.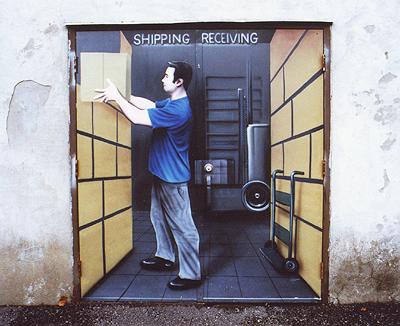 Athlone just north of Richmond on a closed delivery door. Shaun takes his own photos of people for his murals - this is a friend. Artist: Shaun McInnis.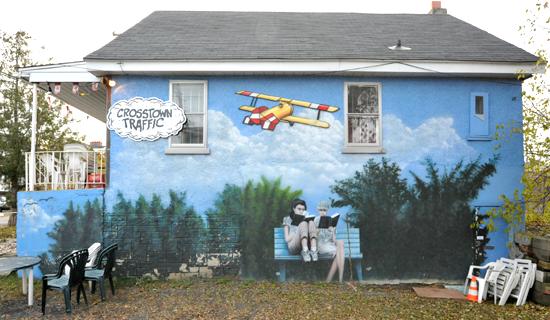 Athlone just south of Richmond. Originally the sign was a banner being towed by the biplane but it was replaced by a new owner. Under the bench is a small flower that the artist painted for a young child passing by. Artist: Shaun McInnis.


325 Richmond. The left car is real, the others painted. The layout is designed to cover all the wall that could be reached by a spray can. Only the door at the top of the fire escape and the top right windows are real. Artist: Shaun McInnis.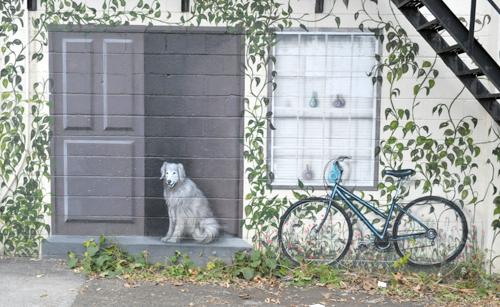 Details hidden by the car, all painted except the fire escape.


Walk south on Churchill to Byron. Winston, of course! Artist: Shaun McInnis.



369 Richmond. At the left is a magnificent view of the 1916 destruction by fire of the parliament buildings, with Ottawa firefighters on the scene and a firefighting Dalmation who was trained to chase away other dogs that might spook the horses. Two former fire chiefs of Ottawa follow, then a modern fire truck and images typical of modern firefighting. Artist: Shaun McInnis.


The ScotiaBank at 388 Richmond. The artist's nephew is shown daydreaming, his mind in the clouds, with images of his dreams: championship skateboarding, mountain climbing, drag racing, soaring free as an eagle, finally retiring in the sunset. Of course, the bank hopes to facilitate such dreams. Artist: Shaun McInnis.