Instructions on setting up Zimbra Desktop client for NCF email

Zimbra Desktop is an optional companion to NCF's Zimbra webmail. Zimbra Desktop is a program you can install on your computer.

NCF currently (March 2017) offers 400MB of storage space on the server.
- By auto archiving your older email locally on your computer with Zimbra Desktop you will never reach NCF's storage limits.
- Zimbra Desktop can perform automatic back-ups. Here's how.
- Zimbra Desktop has an optional password lock to prevent unauthorized access to your emails on your computer. How to turn password lock on.
- Synchronization between Zimbra Webmail and Zimbra Desktop.
- An additional Zimbra Desktop feature; Task Scheduler.
- Additional assistance on using Zimbra Desktop.
- Assistance on using Zimbra Webmail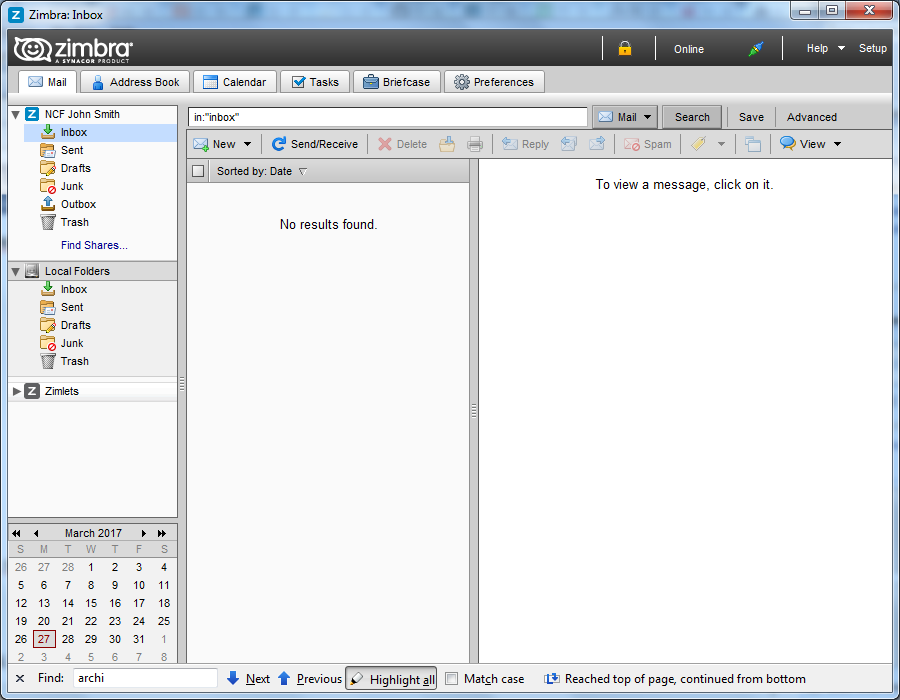 Zimbra Desktop version 7.2.8.GA supports the following:

Microsoft Windows
Windows 7 (32-bit and 64-bit)
Windows 8 (32-bit and 64 bit)
Windows 8.1 (32-bit and 64-bit)
Windows 10 (32-bit and 64-bit)
Mac:
OS X Mavericks 10.9.x and above
Linux
Linux Kernel 2.6.x and above for Intel x86 architecture
A variety of Linux i686 including Ubuntu, Debian, Fedora, SUSE, etc.
Download Zimbra desktop email client from here

Zimbra provides an installation guide covering Windows, Mac and Linux.
Mail setup for NCF.
After downloading and installing Zimbra launch the program.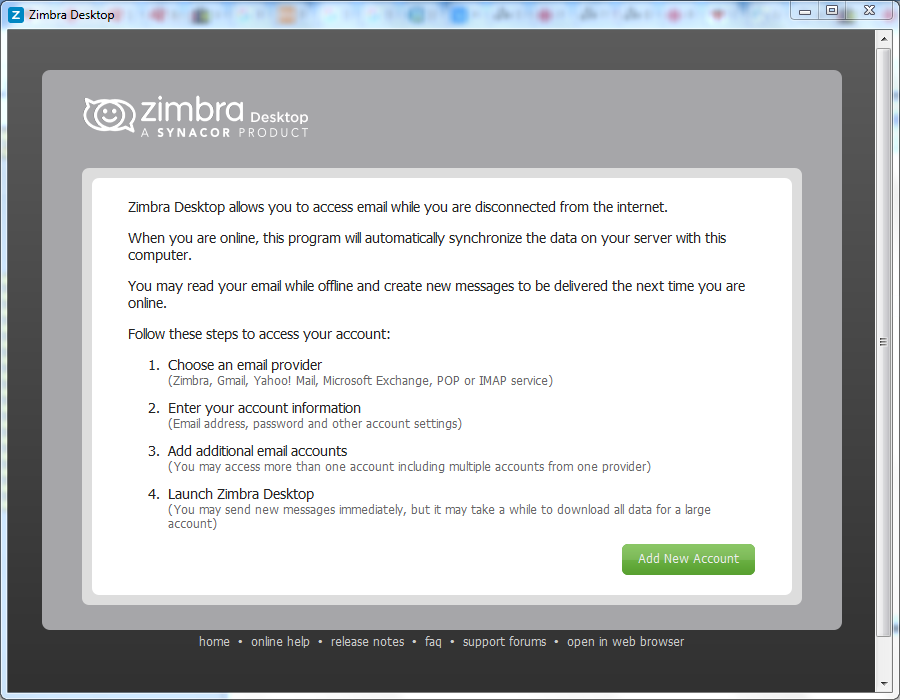 Click the Add New Account button.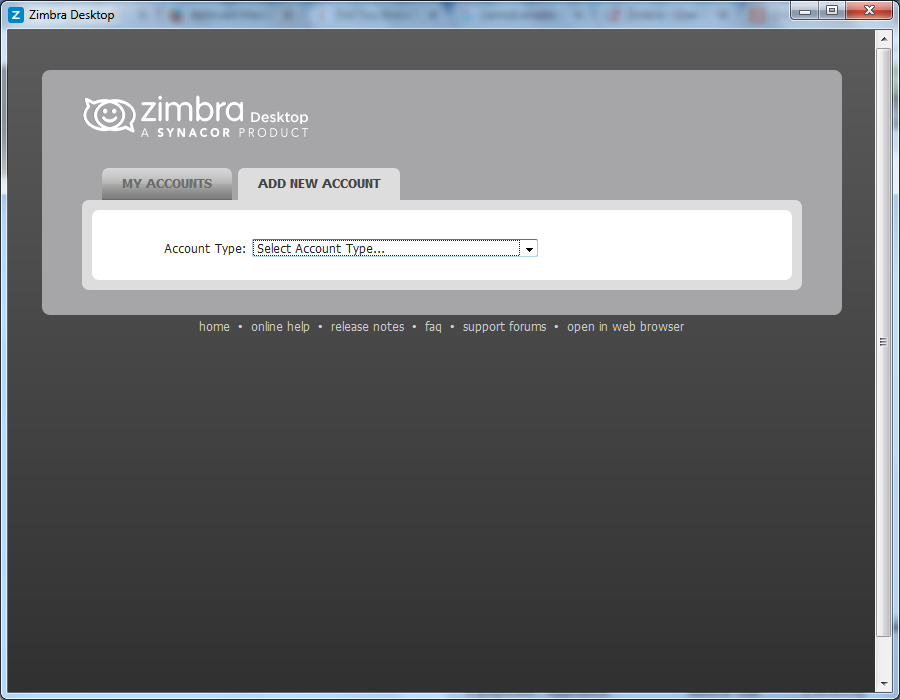 Select Zimbra from the drop-down list of choices.
In addition to NCF mail Zimbra desktop also supports Gmail, Microsoft Outlook live mail, Hotmail, Yahoo mail and most others. You can set it up for multiple accounts.

Here's a tip on setting Zimbra up for Hotmail or Outlook live mail.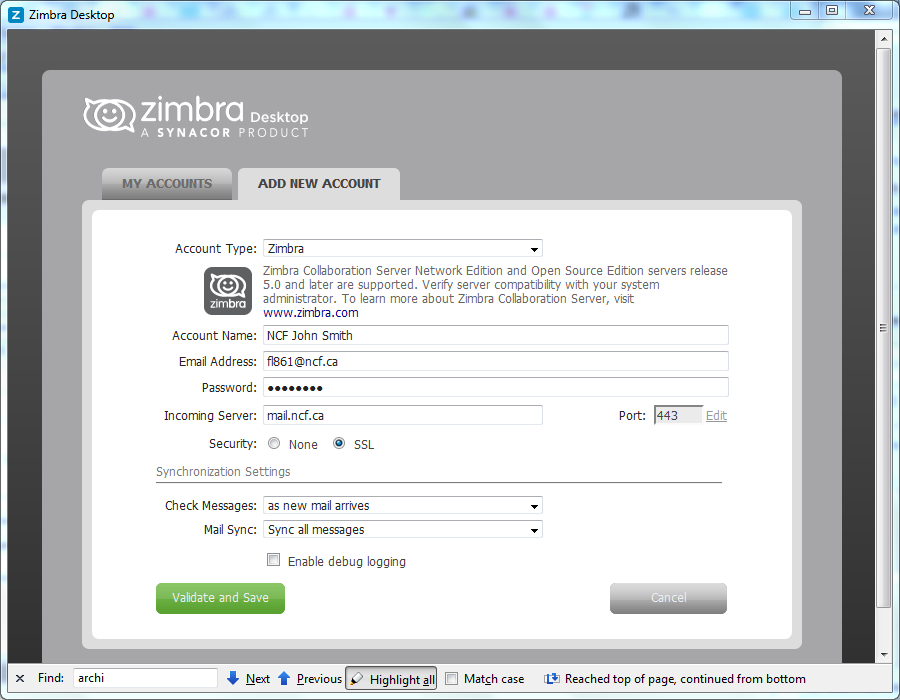 Account Type: Zimbra should be selected.
Account Name: You can use anything you wish. Suggested: "NCF email" or your name.
Email Address: in the form ab123@ncf.ca and your password.
If you have an email alias setup, eg. yourname@ncf.ca, when you compose or reply to an email the "From button" will have a drop down list.
The drop down list will contain your alias and any disposable email addresses you have created.
Click here to reserve a personalized email alias.
Click here to create a disposable email addresses. Using disposable email addresses help prevent spam.

Next click the "Validate and Save" button.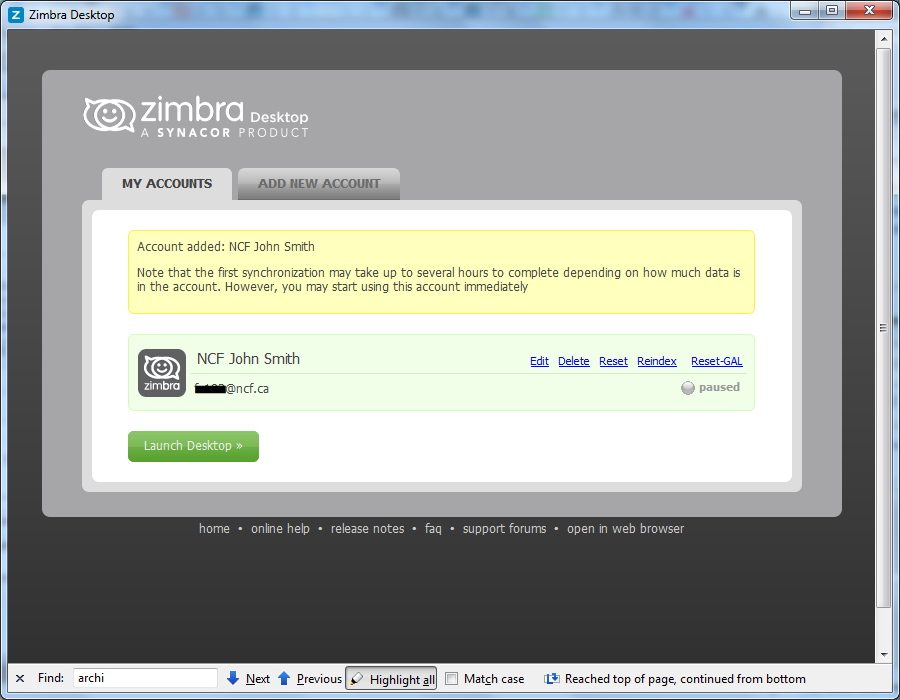 The Account Added screen will appear if you entered the correct information. (be sure you are connected to the internet)

You're done: Click Launch Desktop and the main screen for Zimbra mail will appear.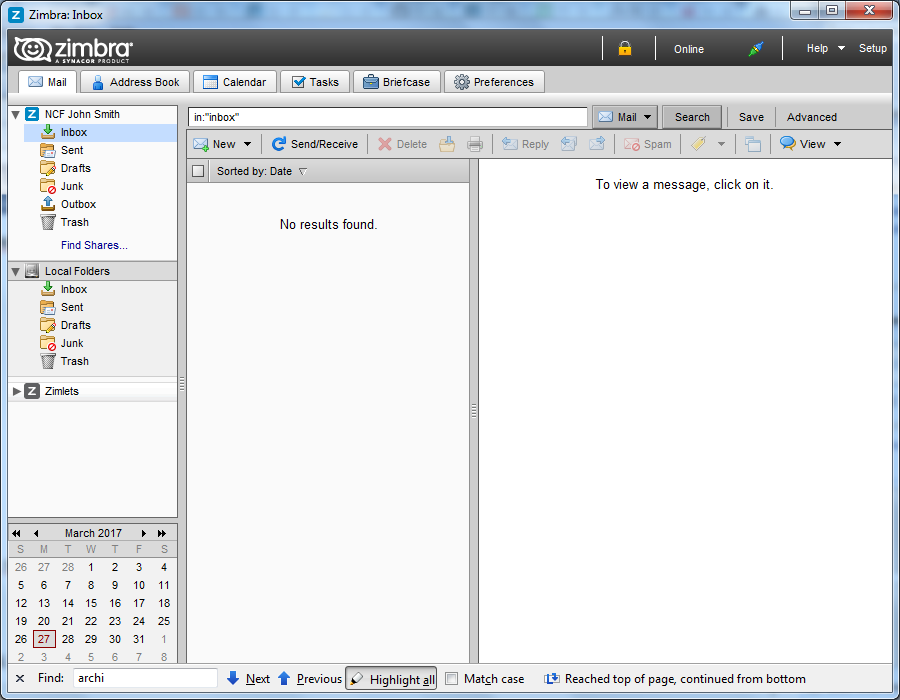 ---
By using this feature old emails are archived to your computer's local folders and these emails are deleted from the NCF server automatically.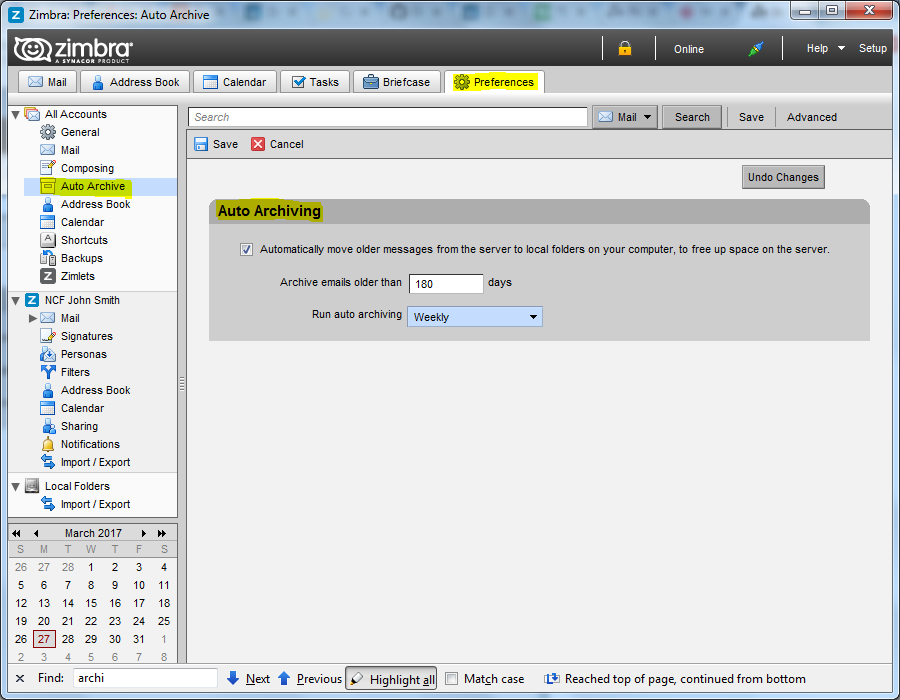 Auto-archive is found in Preferences > Auto Archive > Auto Archiving
Auto Archiving maintains the structure of your online folders. Old emails will be archived into folders of the same name.
---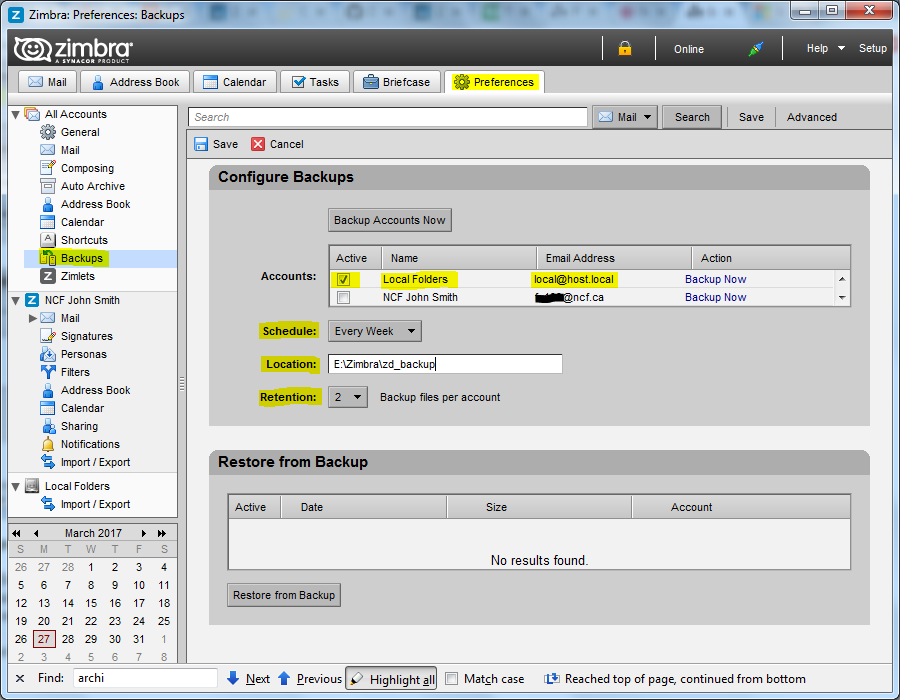 You will find this in Preferences > Backups > Configure Backups

Best practice is to back up your local mail folders to a flash memory card or external hard drive.
The local email folders highlighted above in yellow reside only on your computer and are not backed up by NCF.
Not highlighted in yellow are the mail folders residing on the NCF's mail servers that are backed up by the NCF. You can optionally back those up.

You can change your backup to an external memory card. Example:
Schedule: Weekly
Location: E:\Zimbra\zd_backup
---
If you enable this feature then access to Zimbra Desktop becomes password protected and you need to enter your Zimbra email account password.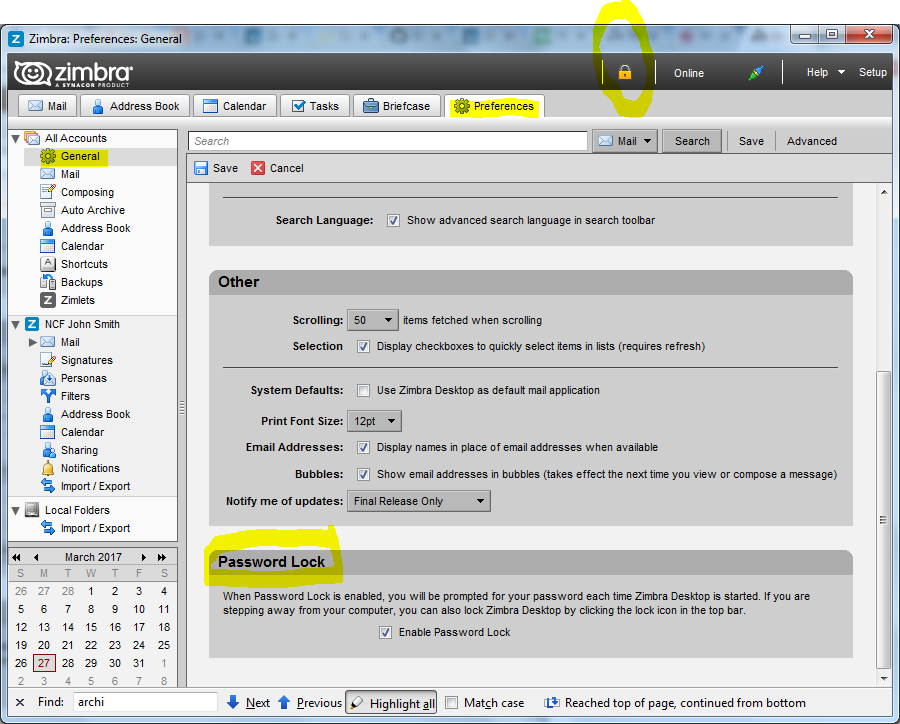 You will find this in Preferences > General > Enable Password Lock

Once enabled, you will see a new lock icon on the top bar. You can click on that icon to be prompted for your Zimbra Desktop account password.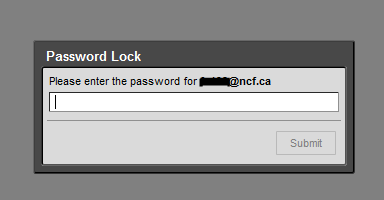 Here is the window that will prompt you for the main account password.
This is a really useful way to protect your Zimbra Desktop content, preventing it from being read by another user who might have physical access to the computer.
If you set up Zimbra with additional email accounts such as Gmail, all the email accounts will be password protected.
---
Synchronization between Zimbra Webmail and Zimbra Desktop
Depending on you're in the pressing send/receive or refresh initiates an immediate manual account synchronization with Zimbra webmail.

Disposable email aliases and personalized email aliases synchronize between Zimbra webmail and Zimbra Desktop.

Signatures don't sync - can be added in both webmail and desktop.

Zimbra Webmail Briefcase synchronizes with Zimbra desktop Briefcase. Can be used to store files and notes online.

Additional notes and files can be saved or archived in the Briefcase under Local Folders.

Calendar Events synchronize. Click the calendar refresh button to synchronize.

---
Zimbra Desktop includes a functional Tasks Scheduler feature in the tab list that isn't available in NCF Zimbra webmail.

The Tasks feature lets you create to-do lists and manage tasks through to completion.

---
Zimbra Desktop online manual

Note that not all features will be available as some of the interactive features described may require the Network Edition and NCF uses the Open Source Edition.
---