Ian Earl Gorman
P.E.I. Wooden Trawler Pictures
Click on a small picture to see a larger version. If you have a non-graphic browser, click on the ".jpg" file description to download the picture for offline viewing.

This page is part of a history of 24 P.E.I. Wooden Deep Sea Trawlers.

There were four basic designs:
Souris II
These pictures are not the Souris II, but they show a trawler that I think was built in Caraquet, and that I think was similar to Souris II.
| | |
| --- | --- |
| View from above | Side view |
All three of these were built in 1952. They were identical, but I have pictures of only one.
Tignish No. 1
| | | |
| --- | --- | --- |
| Side View | Stern View | at Work |
North Bay
| | | |
| --- | --- | --- |
| Engine | Engine Room | Forecastle |
| Deck Knees | Under Construction | Ready to Launch |
| Launching | Launched | Fitted out |
| Fitted out | Propeller | At work in port |
Sailor's Hope
Side View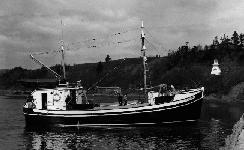 Souris III
| | | |
| --- | --- | --- |
| During Trials | Side View | Inspection |
Iceland
Side View