Mar 16
Thanks for your prayers and support. We truly appreciate and thank God for you. We are in India. I was not able to let you know since I could not access my email. The baby is now fine. The surgery was successful even though both doctors in Kenya and India warned that it was a very risky one I knew that if only we trusted in our dear Lord Jesus it would be well with the baby. We read these Psalms and got a lot of encouragement: 23, 142, 143 and 1 Thes 5:16-18. He will be in the hospital for a week as we also need to pay for our up-keep since we've been here since 25th of February. Thanks, Fred.
Jan 20
Thanks for your prayers, We really appreciate very much. Glory to God, a certain organization has just offered to pay for the medical expenses about ksh 900,000. Therefore we are required to pay for the airfares which is costing about 168,800 ($CAD 2,277) for the 3 of us and maybe some little money for emergency purposes. Kindly, this is the amount we require to go to India for the treatment. I am desperately looking for this amount to save baby Bradley. See photos for my wife and Baby Bradley.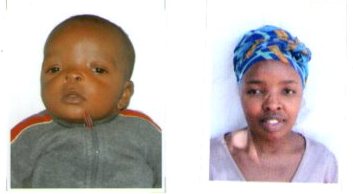 Fred
Jan 13
Dear Tony,
Thanks for the response. The surgery is suppose to be done in India because of the complications.
We need to raise Ksh1.3 million, [$CAD 17,028] It`s too really a lot of money.. The doctor said the heart is being exhausted and that an urgent surgery would really help save his life.
The food we need for a month depending on the food we use about ksh 60,000 [$CAD 786]
Thanks for your prayers, the child can now open his eyes and even cry. There`s hope in Christ Jesus.
Thanks
Fred
Jan 12
Fred
How much money is needed for the heart surgery.
How much is needed for food for the children for a month?
- Tony
Jan 9
Dear Tony,
Please keep praying, still trusting God for His intervention.
Where will I get the money for the heart surgery from? Yet at the orphanage we also need food.
- Fred
Jan 7
Fred
We are praying. You must be terribly worried. Surely our great and powerful God will bring angelic forces to protect and heal your son and bring him to perfect health.
Blessings to your whole family.
- Tony
Jan 7
Dear Tony,
Kindly pray with us my first born son Bradley Onyango who is 7 months old is hospitalised with a heart condition. Pray for God`s healing in his life.
The children are well despite the challenges we are facing. There is hope in Christ Jesus.
- Fred
---
I responded to an e-mail from Fred, which gave all the information my local BMO Bank of Montreal needed:

From: fred omondi [mailto:ndi_fre@yahoo.com]
Sent: October 12, 2014 4:36 PM
To: COPPLE, TONY; 
Subject: Re: How you may support us

Dear friends, you may support us by wire transfer through the following:   
Barclays Bank of Kenya Limited,
Barclays Westland Banch,
Westend Building, off Waiyaki Way, 
P.O.BOX 30120-00100                              
A/C NAME: Children's Sports and Learning Centre A/C NUMBER: 073-1070652 BRANCH: Westland
Childrens Sports and Learning centre address: off Limuru Wangige road at Karura next to Kibagare slum
IBAN:030731070652
SWIFT:BARCKENX                                            

Thanks, Fred Omondi

 - - - - - - - - - - - - - - - -

9 days later I received the following:
 
Dear Tony, Thanks indeed for your support. I received ksh18,200. I was able to buy food for the next 10 days. 
Am glad we've got food for a while and believe God for more provision.
Our regards, Fred.

This is one way to send cash to Fred securely. A second method is Moneygram, though I have not used it and do not know their fees.

One of the reasons I gave to Fred is that with a relatively small donation, he will directly keep these children from starving, at least for a while.
There are no overheads. You are the answer to their prayers. Please help! Start by dialoging Fred by e-mail.

NB: Not all banks offer wire transfers to Africa. BMO does.
---
Other charities needing help