| | |
| --- | --- |
| | Joint Council News as reported to VAF |
November 2017 Joint Council Meeting

Hello everyone :)
The November JC Meeting was on Tuesday, November 7th, 2017.
October Event (Recap)
The October event took place on October 21st, at Saunders Farm. Everyone had a blast at the haunted house and walks, great success and good times !!!
November Event
The November event will take place at Walkley's bowling on November 18th at 1-3pm. Hope to see everyone there :))
December Event
The December event will be the JC Winter Semi. It will take place at the Orleans United Church, Friday, December 15th from 7-10pm. The dance will cost $10 per person, you are welcome to bring one non-JC guest, per JC person. So bring your friends !!!
Winter Camp
The voted theme of winter camp, will be music! It will be taking place the first weekend of march, March 2-4 at Awacamen Mino Camp, at Chemin Mcnicoll, Wakefield, Quebec.
JC Swag
The logo was voted for and a scan is below, thank you Gabby! The colour voted for was navy blue :) The chosen style was a hoodie, and we will look into a hat. Registration forms will be available at the next meeting.
DUBI
Alligators can stick out their tongues, but crocodile's cannot because their tongue is stuck to the top of their mouth!
Hope to see you all at the December Meeting; the at 7:30 at the Legion!
Guiding Co Chair - Lauren McCulloch
Scouting Co Chair - Kendra Hurtubise
Guiding PR - Ella Thomson
Scouting PR - Russell Jerome
Secretary - Olivia Boyuk
Treasurer - Kiernan Lalande
The May JC meeting was on Tuesday, May 2, 2017.

At the meeting:



MAY CAMP

Registration forms were collected. If you still have forms or money, you need to get them to Emma, Alan, or Laura ASAP (Before the 8th). The LAST POSSIBLE day to hand in forms or $$ is May 8th (this Monday) at the camp runners meeting (Scout HQ, 1345 Baseline Rd, 7pm). Email Emma (emmakearns1@outlook.com,) if you`re planning to bring forms or $$

The camp is the 19th to 22nd (May Long Weekend) and is Hawaiian themed. Be there or be square.

Other Camp Notes

At this camp, nominations for the Ken Johnson Memorial award happen. This award goes to someone who has shown great leadership in Joint Council this Scouting year. To nominate someone, you need to write down their name, why you`re nominating them, and get two signatures. Then you give this to one of the JC advisers (Alan or Laura).


June Event

Is a semiformal dance, same room as the JC meetings are in at the Legion, from 7-10 pm on June 9th 2017 (Friday). It will cost $10 - y`all should definitely go!

Exec Nominations

It`s almost time to select a new JC executive team for the 2017-2018 Scouting year! To be in the running, you must be nominated (you can nominate yourself), seconded by someone, and accept the nomination. As well, you have to be present at the June JC meeting. Nominations will be happening at May Camp, as well as at the June meeting.

Exec positions are

Scouting Co-Chair
Guiding Co-Chair

Scouting PR
Guiding PR

Secretary
Treasurer


If you want more info about a specific position, feel free to email or talk to any of the current exec about it - we'll answer your q's.

See you at the last JC meeting (June 6th)!

--
Your Joint Council Executive,

Scouting Co-Chair - Fred Hook
Guiding Co-Chair - Ashtyn Turner
Scouting PR -Hamster Morey
Guiding PR - Susan Philpott
Secretary - Andrew Stevens
Treasurer - Evan Dickson
As promised, our April event is escape rooms!! We're going to the Escape Manor on York Street on Friday, April 21st at 8:00 PM.

If you're planning on coming, you MUST bring money to the meeting on April 4th!! The cost is $24 per person and this needs to be in at the meeting so we know how many spots to book. If you can't make the meeting but still want to go, reply to this email or message one of us and we can work out a way for you to get money to us :)




See you all Tuesday!


--
Your Joint Council Executive,

Scouting Co-Chair - Fred Hook
Guiding Co-Chair - Ashtyn Turner
Scouting PR -Hamster Morey
Guiding PR - Susan Philpott
Secretary - Andrew Stevens
Treasurer - Evan Dickson

Bonjour tout le monde,
The February JC meeting was on Tuesday the 7th.
At the meeting:

JC SWAG (clothing)

Forms were due at this meeting. If you have had a last minute epiphany about JC clothing, send your form to Fred (captain.fredhook@gmail.com) BEFORE THE 12th of February and they'll get you in on the order if you arrange a way to pay. Forms have been attached to every email since like November, and are also in the Facebook group.

Laserquest Lockdown

needs people to register now to avoid cancellation! Registration is now open to all! Please email Graeme (graemehurtubise@gmail.com) ASAP if you want to shoot lasers and such all night March 18th-19th. Form is attached with more info.


February Event

will be sledding at Bruce Pit on the 25th of February from 1-3pm, sleds not provided.

Winter Camp

needs one more offer of service/dayrunner. Email Alan (clapp4times@gmail.com) or Laura (garrow@rogers.com) if you're interested. Registration package is attached and has also been sent out along with all the information. It's all due at the March meeting (the 7th), and the camp is the 10th-12th of March

ScoutCon

is a conference for Scouters and members of senior sections (That's y'all!)
It's on Saturday, March 4th from 8:30am-4pm at A.Y. Jackson Secondary School. The cost is $15, which includes a crest and lunch (catered by Ope Crew)

There are a bunch of workshops that you can register for, as well as a FOCUS course (which also has sessions on Friday 6-10pm at Scout HQ). If you're going to CJ this is for you.

Kanata Venturers are wanted as offers of service.

Link to ScoutCon/FOCUS registration
Outdoor Adventure Show
is an expo the 1st and 2nd of April (Saturday and Sunday, with setup Friday night), and Scouts Canada has a space to fill. Chuck Fraser is looking for volunteers who are willing to help run activities and such to promote Scouting (Last year, we got to teach kids how to use a flint and steel, had a bunch of camping stuff set up, etc.).
You can commit any amount of time you want, it's a pretty cool event.
Email Scouter Chuck at fraserchk@rogers.com if you're interested in either this or ScoutCon!


Paddle Nights
Offers of service are still needed! Train The Trainer night is 7:30-10:30pm on February 25th. Come on out and learn how to teach adorable children how to paddle! The paddle nights themselves are March 11th,18th, and 25th and April 8th, and you don't have to do allllll of them. Email or talk to Ash (eihposrenrut@gmail.com) if you're interested or have questions.
Hey all, quick change to the minutes. If you have questions about offers of service for Paddle Night, or want to volunteer your time, you should email VCSApaddlenight@gmail.com.

Thanks!
Winterlude
needs volunteers for Lost Children Services with Service Corps. The dates for this are February 17th (5-9pm), 18th (9:45am-1:30pm or 1-5pm) and 19th (9:45am-1:30pm or 1-5pm).
You'd be looking for lost children outdoors (but you can go inside and warm up). Bring skates if you can skate, and you NEED a helmet if you have skates.
There's also a party on the 22nd for volunteers and it has food!

Registration + more info here!
January Event
was skating at Walter Baker on the 28th of January. Shoutout to Emma for coming, it was cool (laugh at me I'm funny), we got food afterwards.


DUBI
8000 Americans are injured by musical instruments each year!
See y'all March 7th for the next episode,



--
Your Joint Council Executive,
Scouting Co-Chair - Fred Hook
Guiding Co-Chair - Ashtyn Turner
Scouting PR -Hamster Morey
Guiding PR - Susan Philpott
Secretary - Andrew Stevens
Treasurer - Evan Dickson


Hey all,

Here's the registration package for the Ancient Mythology themed JC winter camp (March 10-12th)! Info is on the package, and everything is due at the March JC meeting (Tuesday, March 7th).

Also a reminder that JC clothing orders can still be brought to the February meeting (Tuesday, Feb. 7th). After that, you're out of luck if you want an awesome hoodie or cool sweatpants.

Feel free to email if you have any questions, and hope to see y'all at the February meeting!

--
Your Joint Council Executive,

Scouting Co-Chair - Fred Hook
Guiding Co-Chair - Ashtyn Turner
Scouting PR -Hamster Morey
Guiding PR - Susan Philpott
Secretary - Andrew Stevens
Treasurer - Evan Dickson

Great news!
We have a date and venue for Winter Camp! It will be held from March 10th-12th at Opemikon. The cabins we have are Clements, Armstrong, and McManus.
But we still need volunteers to run the camp! So if you are available that weekend and would like to help out with Winter Camp, please let us know! Just email jcottawaexec@gmail.com with your name, group/unit name, and which day you would prefer to run. We need people for Friday, Saturday, Sunday, and all camp!
Thank you!
Dec 14
So apparently Cineplex decided to change their times, so the movie is now going to be the Original 3D showing of Moana on the same date, Friday December 16th, but at 7:40 pm instead of the original time. You should still show up early enough to buy your ticket beforehand, we'll be there.

Sorry for the confusion, hope to still see y'all there!
Dec 13
First announcement:
JC winter camp now has a location! We will be at Opemikon on the weekend of March 10th to 12th (first weekend of March Break). The theme will be Ancient Mythology. It's gonna be a good time.

Alan (clapp4times@gmail.com) and Laura (garrow@rogers.com) are still looking for volunteers to be all-camp and day runners - if you expressed interest earlier, you should email them to confirm whether or not you're able to go, and if you're interested now you can do the same.

Second announcement:
Our December event - watching Moana at Cineplex Odeon South Keys - has been confirmed to be Friday, December 16th. We will be going to the Regular 3D showing starting at 6:45 pm. Come early enough to buy your ticket, or buy one online. Tickets will be around $11.50

See y'all at the movie! (And at Winter Camp!)
--
Your Joint Council Executive,

Scouting Co-Chair - Fred Hook
Guiding Co-Chair - Ashtyn Turner
Scouting PR -Hamster Morey
Guiding PR - Susan Philpott
Secretary - Andrew Stevens
Treasurer - Evan Dickson

Dec 11
The December JC meeting was on Tuesday, December 6th.

At the meeting:

November Event

- was on November 20th from 2-4 pm, board games at The Loft.
- 7 people showed up; one was very small.
- Games, tons of fun.
- Deep fried mac and cheese balls are great.

December Event

will be a movie (Moana) on Friday, December 16th at Cineplex Odeon South Keys, as we couldn't book anywhere for a dance.The start time is TBD, but we're shooting for between 6 and 8pm, and we'll let you know when the times come out (should be quite soon). Tickets will be about $11.50

January Event

will be skating at the Walter Baker Centre (indoors) on Saturday, January 28th from 1:00 to 3:20 pm. It'll be $2.75 per person. Even if you can't skate, show up - we can attempt to teach you!

Winter Camp

The advisors are still working out a location for winter camp, so we don't have a weekend yet, but it'll be in February. The camp theme will be Ancient Mythology. Volunteers are needed for day and camp runners (Since we don't have a date yet, full commitment isn't needed, but let Laura (garrow@rogers.com) and Alan (clapp4times@gmail.com) know if you're interested!)

Couch Rally Prizes

were given out! Eyyy! Also, RARC wants to thank everyone who went to the Laserquest Lockdown

JC SWAG (Clothing)

The order form is due next month at the January meeting. It's attached. ALLLLLL the info with respect to logo, clothing types, payment, etc. is on it.

Buy the JC swag so you will have swag. No pressure though.


On that note, the January meeting will be on January 10th. If you show up on the 3rd, we won't be there because its still the holidays.

DUBI

It is illegal to eat mince pies on Christmas in the UK


Enjoy celebrating, and see you on the 10th day of 2017,


--
Your Joint Council Executive,

Scouting Co-Chair - Fred Hook
Guiding Co-Chair - Ashtyn Turner
Scouting PR -Hamster Morey
Guiding PR - Susan Philpott
Secretary - Andrew Stevens
Treasurer - Evan Dickson

Nov 15
Here's a message from Fred:

Hey guys,
Bit of a change of plans! The January meeting will be held the 10th instead of the 3rd, as the 3rd is still during the holidays.
(This also means that your JC clothing order forms will be due January 10th.) Thank you for your understanding!
Hope y'all are having a good week!
JC Clothing Order Form 2016-17
Email for JC is jcottawaexec@gmail.com
Laserquest Lockdown

will be Saturday, December 3rd at 11:00 pm to Sunday, December 4th at 6am.
This will be happening at Laserquest (1800 St Laurent Blvd.)

All-night Laserquest event run by RARC, it's $50 per youth, it's a great time.

Forms went out at the meeting, there's also a copy attached to this email (note that there's a typo, price per person is $50). Register early, because there's only 75 spots and they sell out fast. Info on payment/other helpful stuff is on the form

This is a Scouting event (Guiding members are welcome if they deal with their own forms). Email Travis (travis_laramee_21@hotmail.com) or Graeme (graemehurtubise@gmail.com) with questions.

RoVent Lost/Found

was brought to the meeting. If you still don't have things you lost at RoVent, email rovent.voyageur@gmail.com to figure that out. Good luck!

Scouts Canada food drive

(Y'all got an email about this already, but I'm putting it in anyways)

is this Saturday (Nov. 5) at the Ottawa Food Bank, volunteers are wanted to sort food - you'll get volunteer hours if you're in HS and need them. It's a good time.
People are especially needed for the 11:30-1:30 and 3:30-5:30 shifts.

To sign up, vcsa.yolasite.com is the website. Guiding members (or anyone with questions) should email emmakearns1@outlook.com with availability (it's mostly a Scouting event)

October Event

was the Original Haunted Walk on the 22nd of October. 20some people showed up, Fred said it was scary, it was a cold night, but still interesting.

November event

will be board games at The Loft (14 Waller St, in the Byward Market) on Sunday, Nov. 20 from 1-3pm. Cost is $5.50 per person (bring more dollarbucks if you want to buy food or drinks)

December event

will be a dance on either December 16th (Friday) or 17th (Saturday)
Location and start time TBD, we'll let you know at the December meeting or before.

JC SWAG (Clothing orders)


Thank you to everyone who submitted logos! We voted at the meeting, and the logo below was chosen.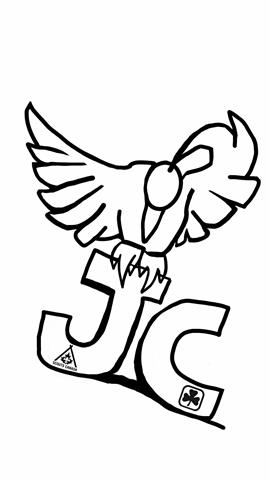 We also voted on clothing types and colours. Your item choices are:

1. Forest green hoodie with logo
2. Black sweat pants, probably without logo

Personalization options and prices will be on the forms going out next month (If we have them, names on pants will be across the seat. For hoodies, names could be across the back or down the sleeve, we'll let you know on the form)

DUBI (Brought to you by Alex)
Jack o' lanterns on Halloween were originally put out to ward off evil spirits.

See you all at the December meeting (Tuesday, December 6th),


?
--
Your Joint Council Executive,

Scouting Co-Chair - Fred Hook
Guiding Co-Chair - Ashtyn Turner
Scouting PR -Hamster Morey
Guiding PR - Susan Philpott
Secretary - Andrew Stevens
Treasurer - Evan Dickson