Richard Taylor's LEGO® Christmas Models
Note: This is NOT an official LEGO® Web site. I just enjoy playing with LEGO® blocks. LEGO® is a trademark of the LEGO Group of companies which does not sponsor, authorize or endorse this site.
Return to Richard Taylor's Home Page.
---
For the last fifty years or so, I have built a LEGO® Christmas card for my family. I always try to think up a new idea with a Christmas or winter theme. It's getting harder now not to repeat myself, but so far I have been successful. Here are some of the models I've built over the years.
---
Anne gave me another Lego advent calendar in 2017, and I used many of the models to build models of the things that Lexi and I enjoyed doing together. Frances organized a cottage stay over the Christmas holiday, so I also built a model of Flower Moon Cottage. The final product was a photo book that I have also formatted as a set of web pages.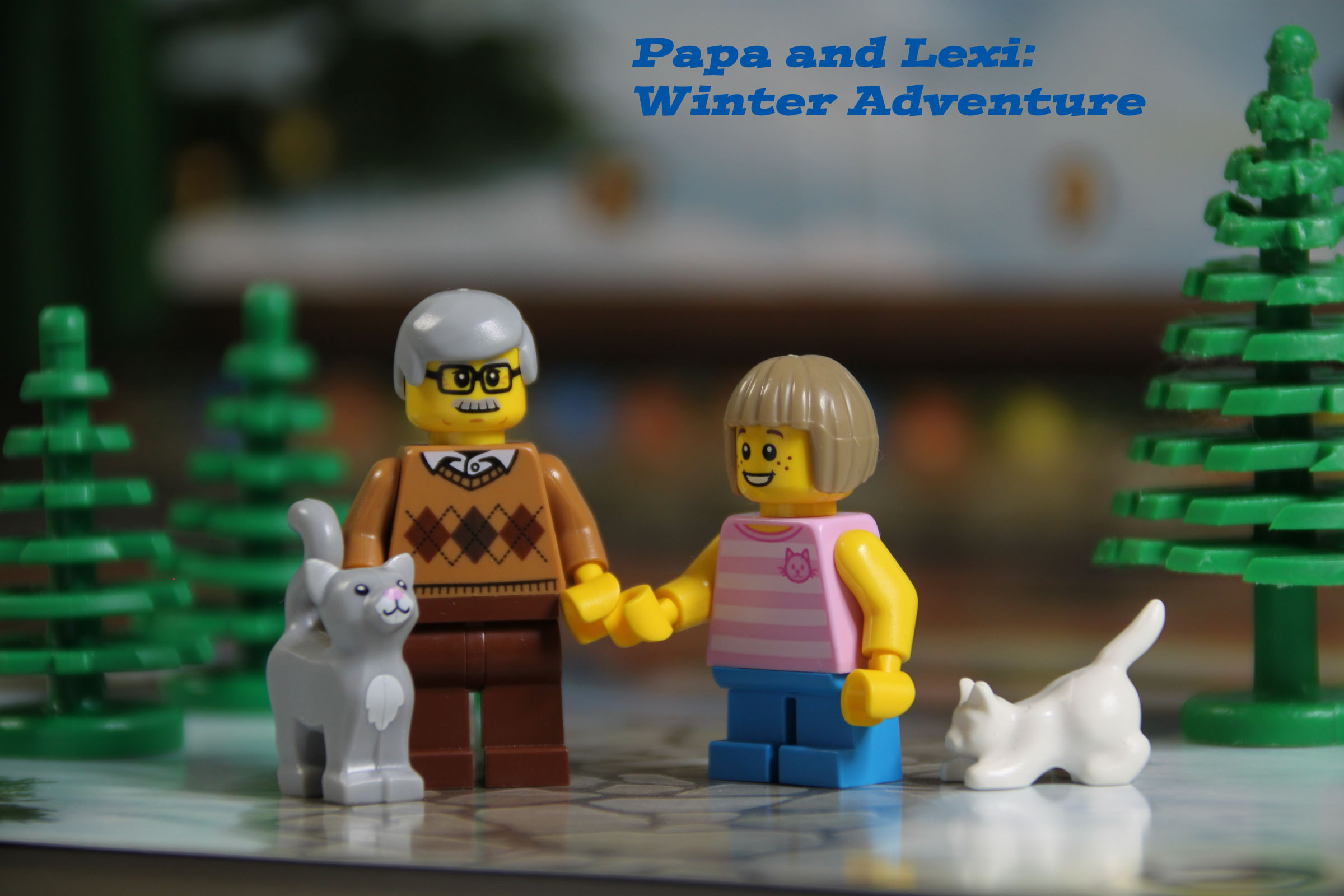 ---
Anne and Kate gave me a Lego advent calendar. Some of the models looked like Xmas tree decorations, so I expanded on that theme. The grey and white spiky ornament is my own design, as is the snowflake on top.
---
Click on the picture to see the video.
Kate showed me an idea for a Lego Christmas Cookie Decorator in November. It used modern Lego Robotics kit that I don't have, but I've been teaching my students how to use the Arduino microcontroller, so I thought this would be a good demo project. The hardest part, as expected, was to get the right viscosity for the icing: too thick and it left gaps and clogged the valve; too thin and it made a blurry, drippy mess. The platform draws a nice star though. I tested it with a pen in place of the syringe.
---
Ever since my family gave me some "Nanoblocks" this idea for a meta-model has been in the back of my mind. This is also the first year I've had enough flesh-coloured pieces to make it look realistic.
---
In 2013 we renovated our back room to install a gas fireplace. It makes this room especially cozy in at Christmas.
---
My sister, Liz, has a Mini Cooper and made a special request for a Lego version for her visit this Christmas. Daughter, Kate, also has a passion for Mini Coopers and I've given her many model versions over the years, but never a Lego one. So here they are for Liz and Kate. The smallest Mini is made of nanoblocks.
---
The real meaning of Christmas.
---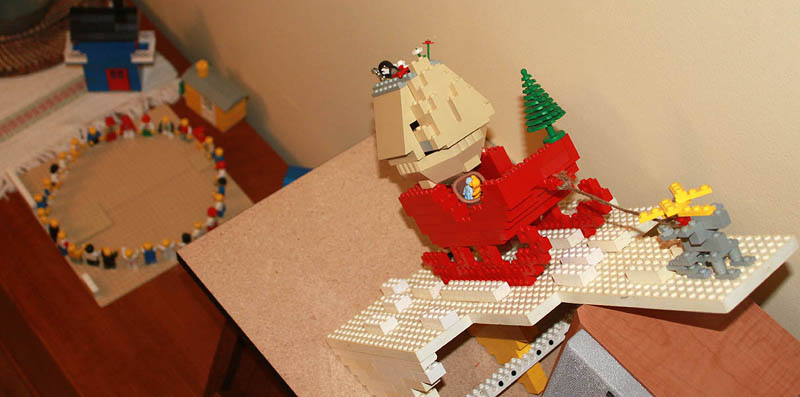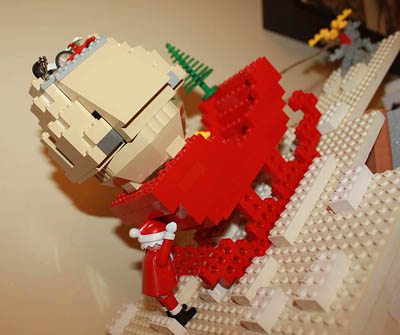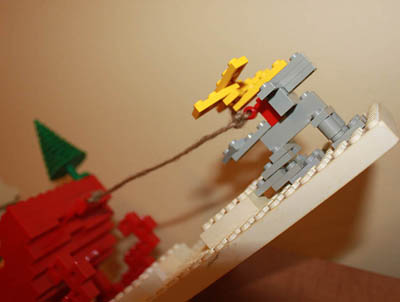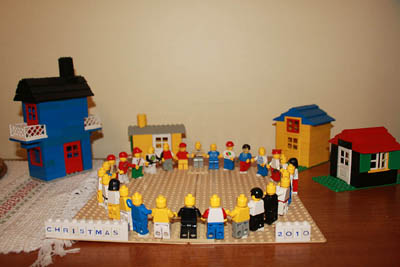 We were feeling a bit grouchy in 2010, so the Grinch stealing Christmas seemed appropriate.
---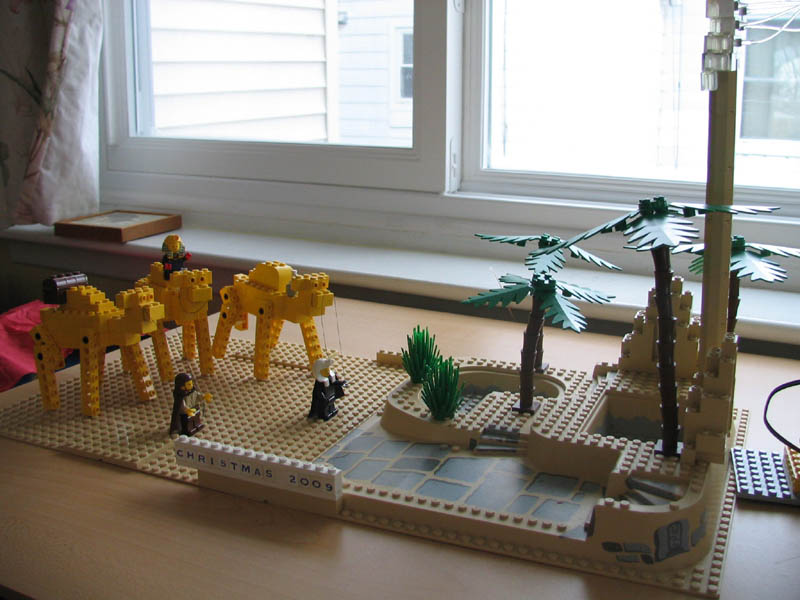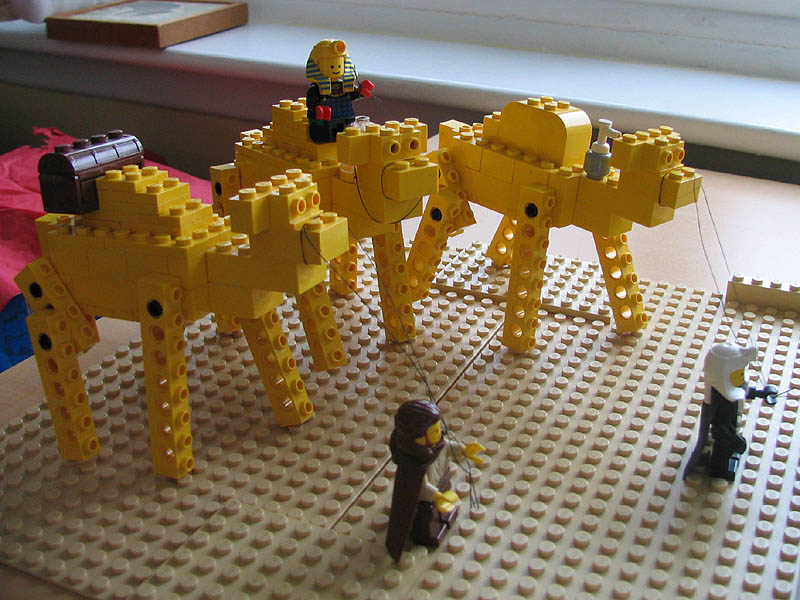 For 2009, I realized I'd never made the three kings a focus of my Lego Christmas models, so here they are. There was a star over the oasis with twinkling red lights similar to the 2007 parol.
---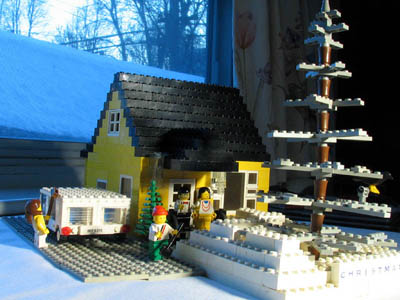 In 2008, the most important thing was that we were HOME for Christmas.
---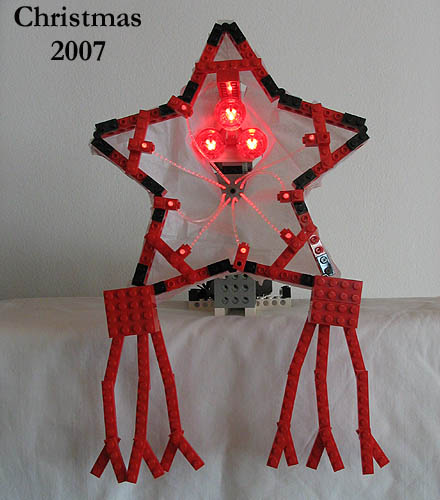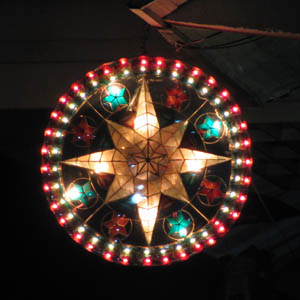 In 2007, it was the parols that really caught my eye. They are a lovely Filipino tradition, and the modern versions are fantastic with multicoloured lights flashing on and off in amazing patterns. So here is my Lego version on the left compared with the more usual version on the right. Click on the Lego one to see the movie.
---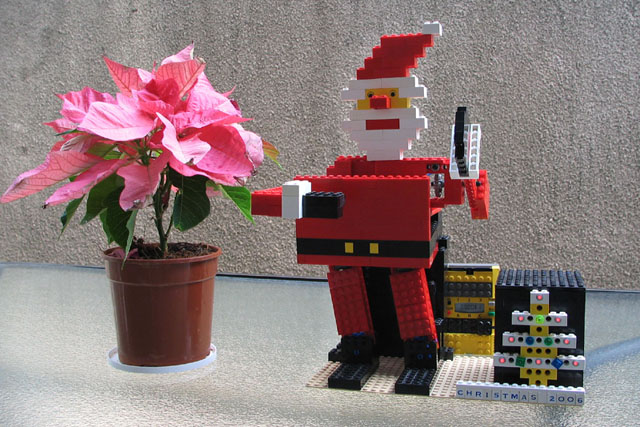 2006 was our first Christmas in the Philippines. I was impressed with the mall decorations and tried to make something similar. The Canadian Embassy admin staff and the students at Manila Science High School really liked my Lego models. So Santa made quite a tour before coming back to our house. Click on the picture to see Santa dance!
---

Our family Christmas present in 2005 was actually a New Year trip to the beaches of Grand Bahama Island.
---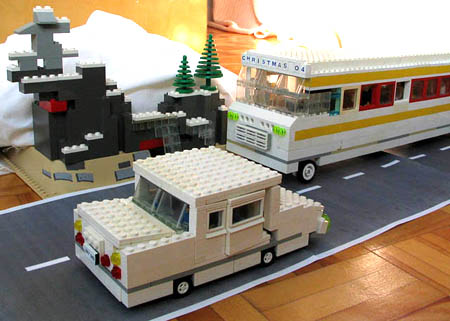 University students going home for Christmas
---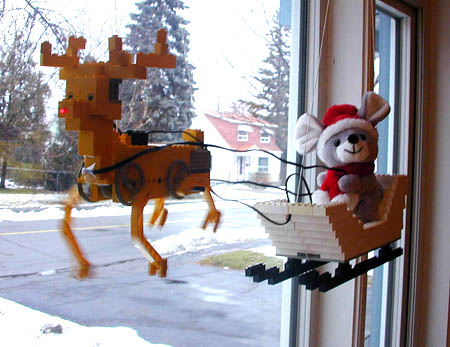 Santa's sleigh (Rudolph's legs were motorized)
---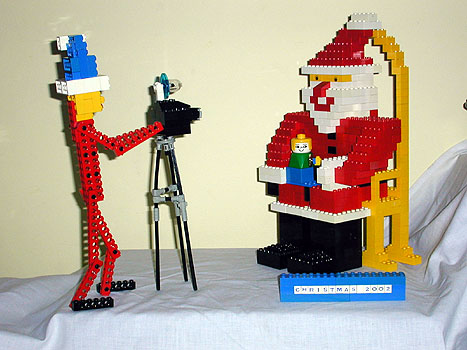 The shopping mall Santa with elf photographer
---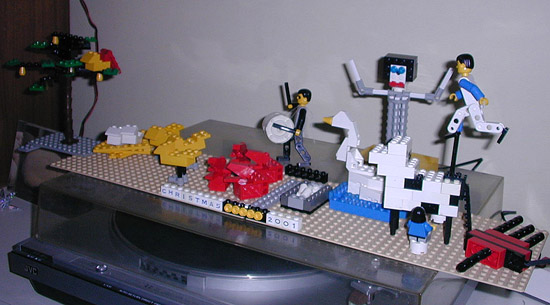 The twelve days of Christmas
---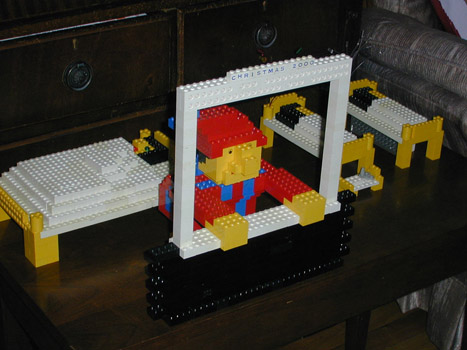 The Night Before Christmas
---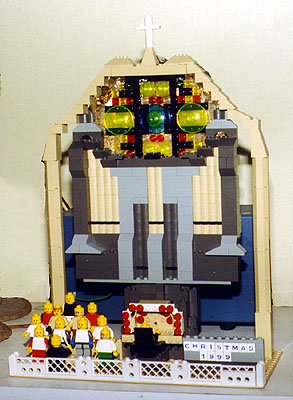 A church organ and choir
---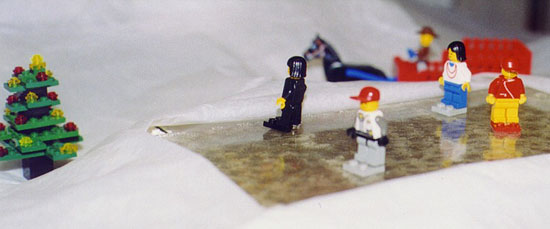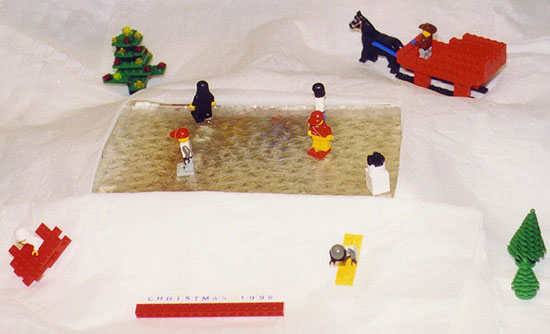 Skating on a pond (there were moving magnets under the "ice" and magnets on the skaters' feet)
When I was a teenager, we lived in Brockville, Ont. Brockville had a famous clown by the name of Con Darling. He dressed in rags, carried an umbrella full of holes and pushed a rickety old toy baby buggy with a live chicken inside. Con Darling was in every parade in Brockville, and even travelled to other cities to represent Brockville in their parades. I still remember going to see the Grey Cup parade in Toronto just after learning that we were going to move to Brockville. There was Con Darling with a banner attached to his baby buggy, proudly bearing the name of Brockville. My brother and I wondered what we were getting into!

Con Darling died a few years ago, but Brockville hasn't forgotten him. You can see his statue down at Blockhouse Island on the waterfront. I haven't forgotten him either. Here's a LEGO® model of how he looked in Brockville's annual Santa Claus parade.
---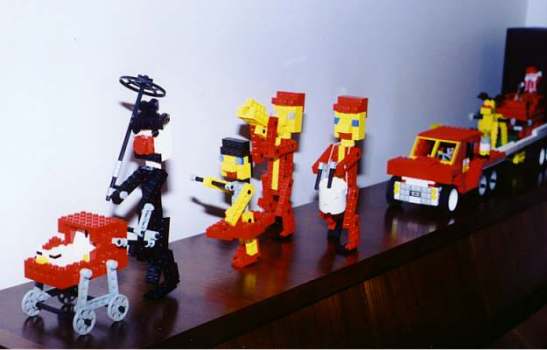 The whole parade
---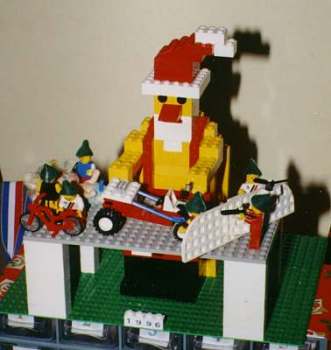 Santa's Workshop
---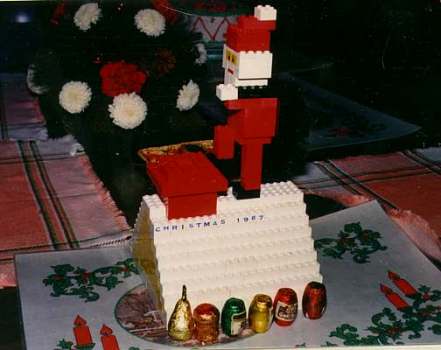 Santa heading for the chimney
---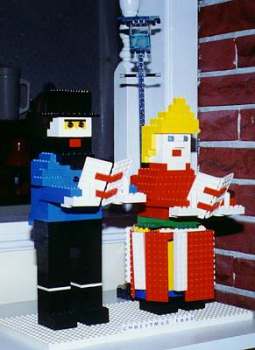 Carollers
---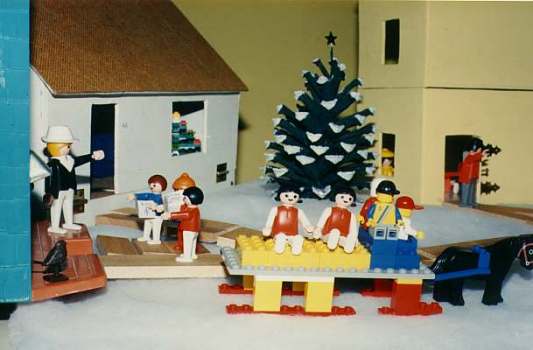 Combination of LEGO® and Playmobil dolls
---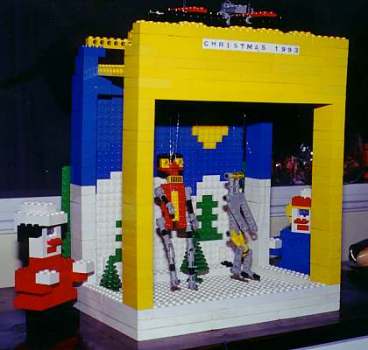 Marionettes dancing in a store window
---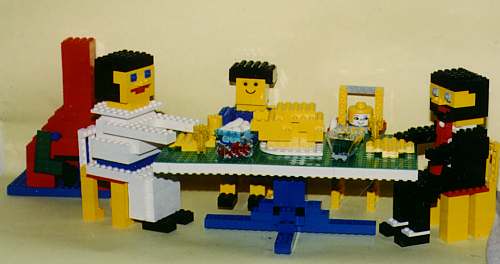 Christmas Dinner
---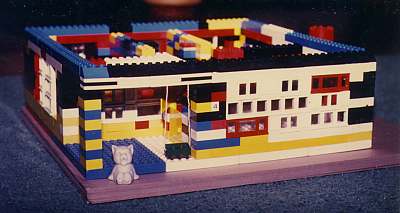 One Christmas while I was away in Papua New Guinea, my brother filled in for me and built a LEGO® model of the house I was living in, based on photos I had sent home.
---
Return to Richard Taylor's Home Page.
---
Copyright © 2006 by Richard P. Taylor
---