Bohol, January 2007
After Christmas, we flew down to the island of Bohol to spend the rest of our vacation. We stayed at a resort on Alona Beach, which is actually on Panglao Island, a smaller island connected to the south-west corner of Bohol by a causeway. Alona Beach is lined with hotels, retaurants, pubs and dive shops. In the evenings, you can't walk more than a few meters before encountering yet another barbecue with sizzling fish and shellfish.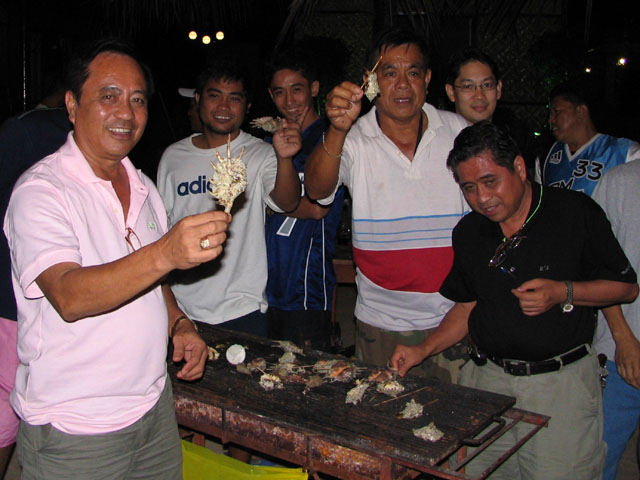 As well as the usual San Mig beer and fruit juices, we were also offered tastes of the local cocunut wine - not quite to Kate's taste!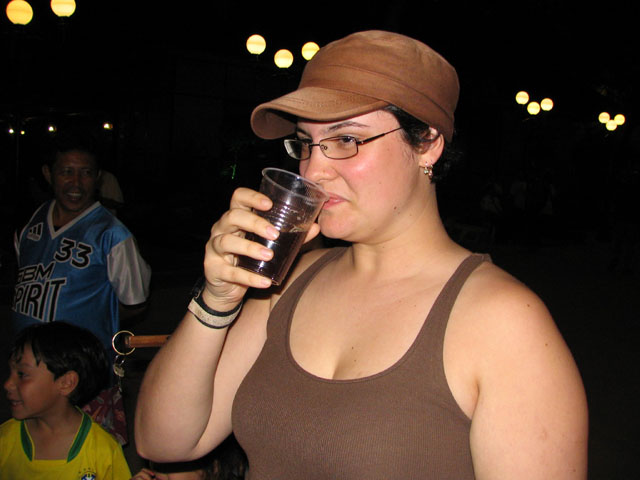 The main attraction of the area is the diving. We took a dive boat like this to an even smaller island, Balicasag, just off the coast. Richard and Frances were eager to practice their new skills. Anne and Kate snorkelled in the shallow water near the beach. Fantastic coral reefs and walls with plenty of fish and some real cartoon-like starfish.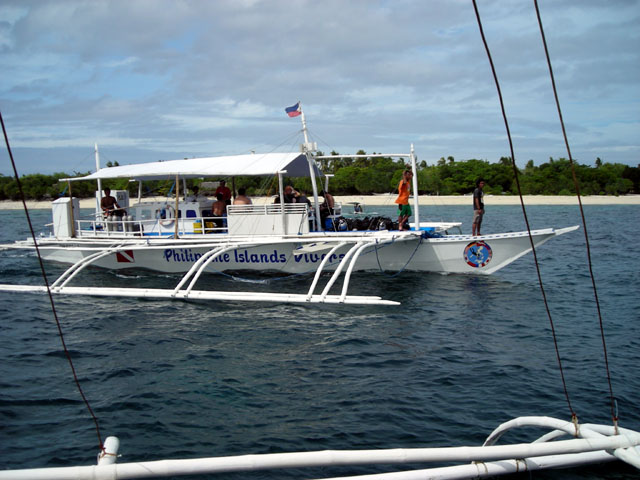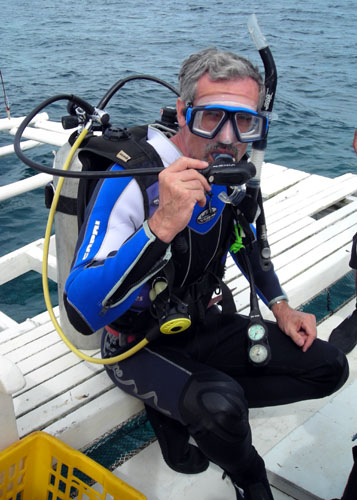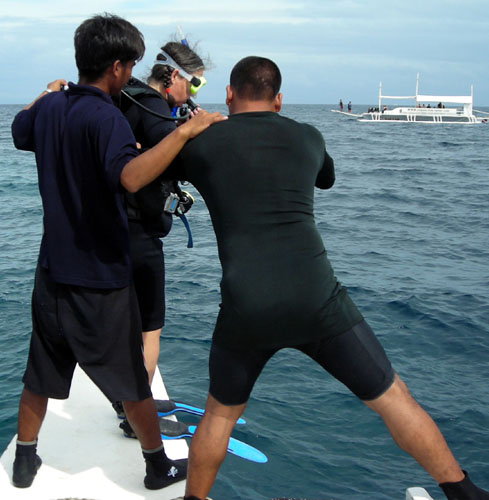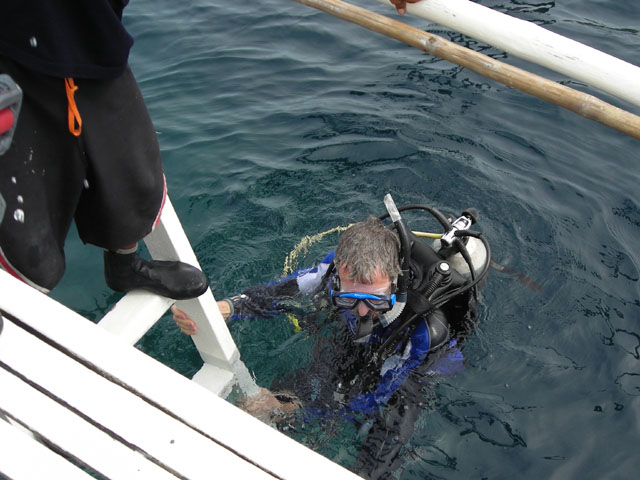 We didn't have the best of weather - it rained almost every day - but it generally cleared a bit by the time we were ready to stroll along the beach and select a dining spot. There was a VERY posh resort near the end of the beach where we dined a couple of times.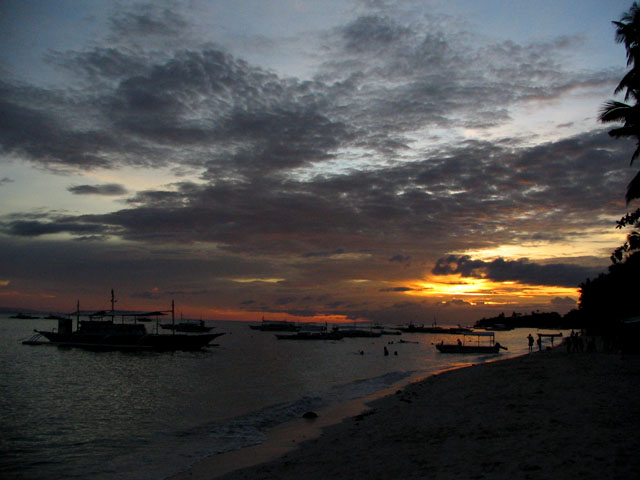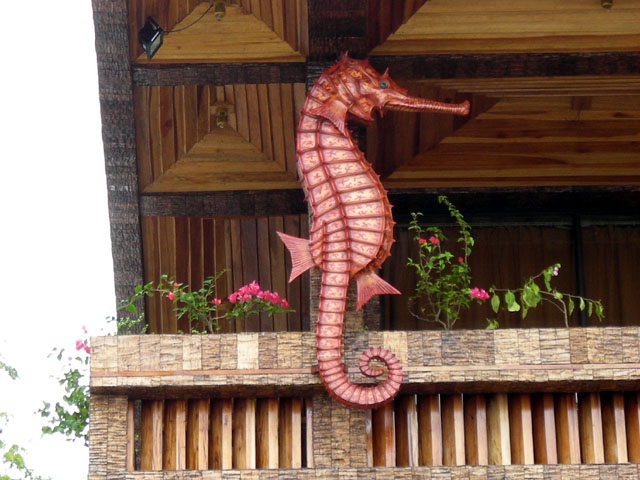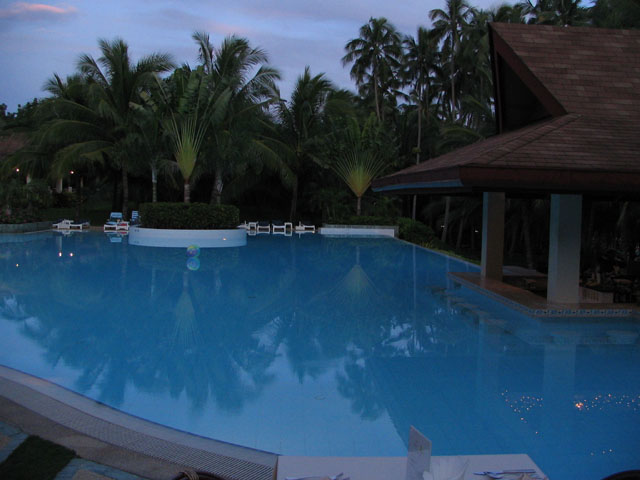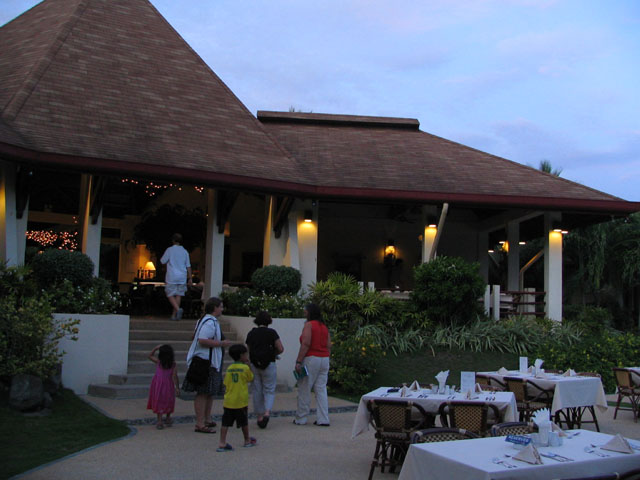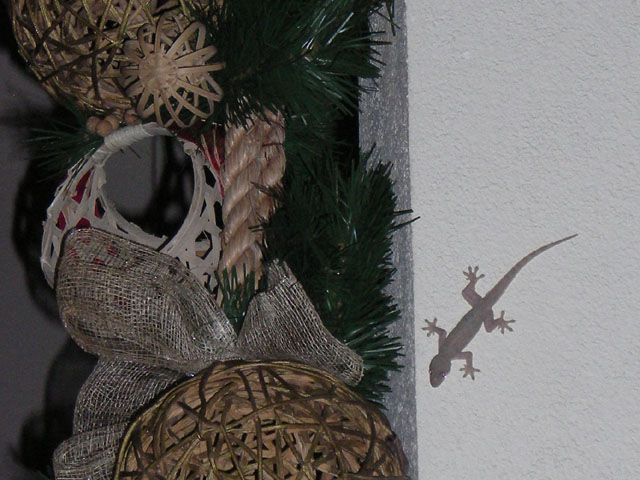 We spent most of our time at Alona Beach, but we had to spend one day touring the famous sites of Bohol. We started with a visit to Antequera, where there was supposed to be an excellent craft market. Well our guide book misled us about the market day, but we did manage to find a few workshops where they were happy to show off their fantastic wicker work and to sell us a few pieces. Nearby there was a lovely tropical waterfall hidden down a long, steep set of concrete steps.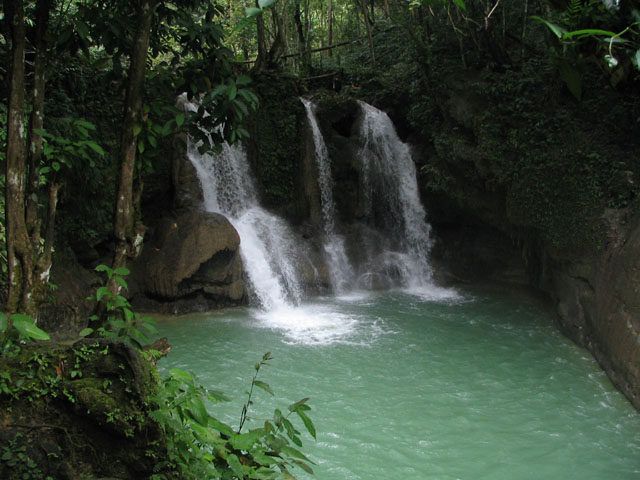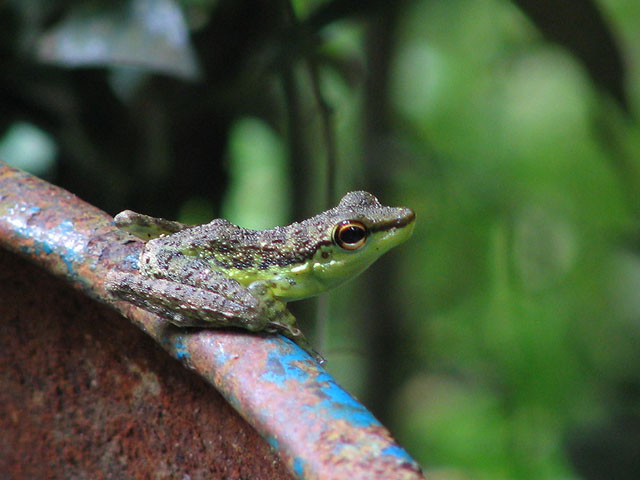 The island is composed mainly of soft coral limestone that has been uplifted into hills. In the central part of the province, the valleys have been terraced and irrigated to make rice paddies.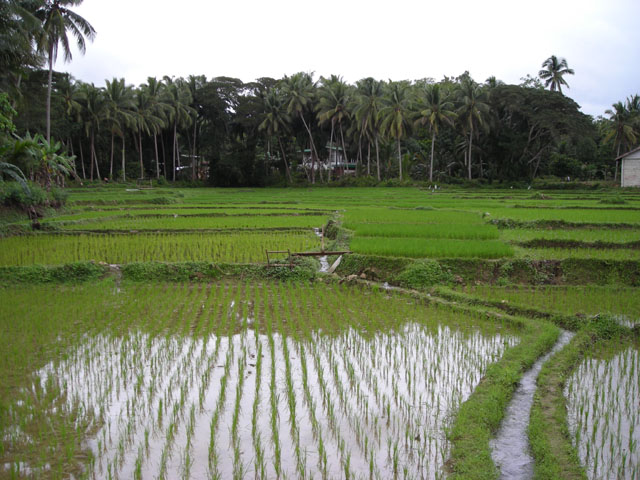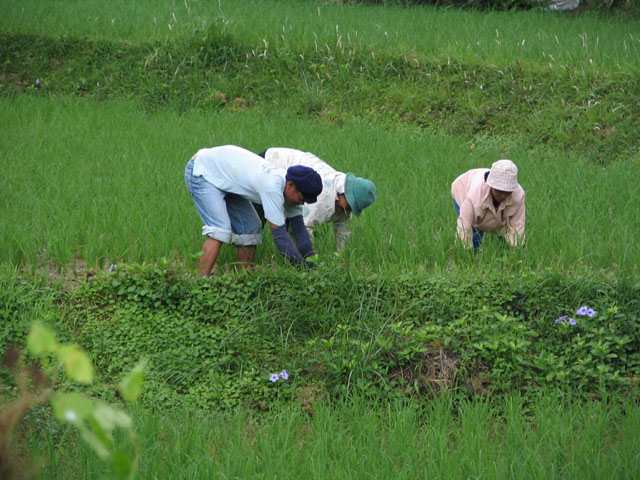 But the most famous part of the island is where the limestone hills have been eroded inot the most perfect conical shapes. These are called "The Chocolate Hills" since in the dry season they turn brown and look exactly like enormous cholocate drops.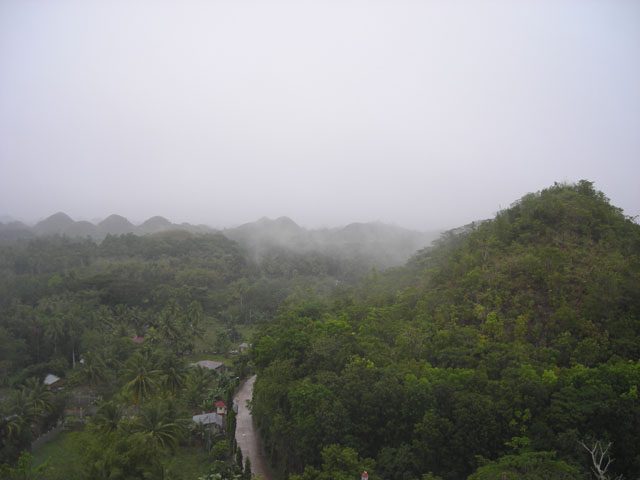 The other famous attraction of Bohol is the world's smallest primate: the Tarsier. We dropped by the Tarsier Sanctuary in the middle of the day and were the only visitors, so we had a very interesting guided tour of their breeding area. The tarsiers are nocturnal and allowed us to get quite close without doing more than following us with their big brown eyes.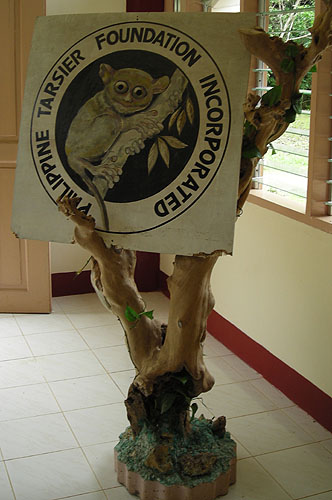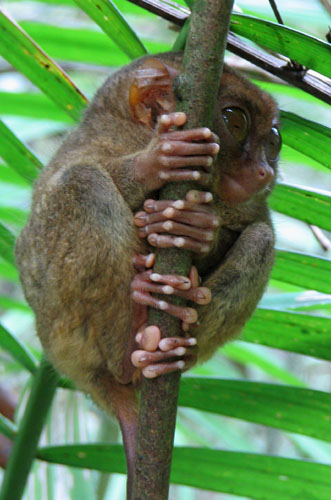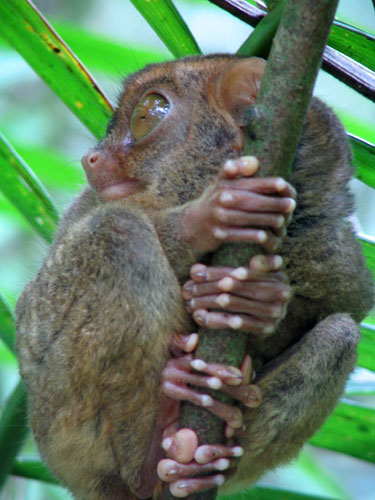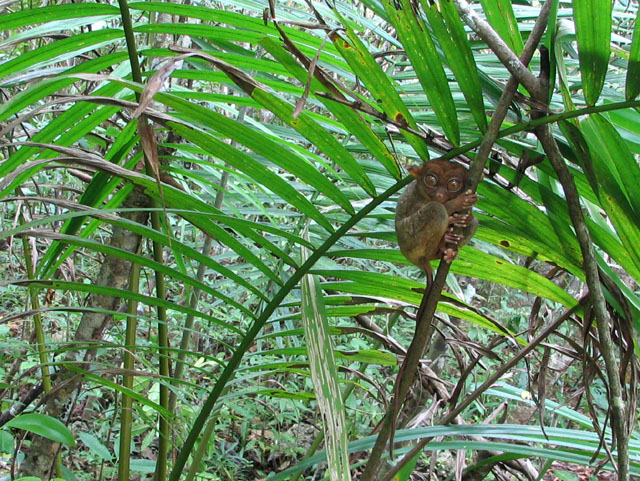 Our last stop on the tour was an old church near Tagbilaran.