Richard and Frances, 2007
This year has been so full of new and interesting experiences, it's difficult to squeeze it down to a reasonable summary. We're still based in Manila, where Richard is teaching at De La Salle University and Manila Science High School and Frances is part of the development assistance team at the Canadian Embassy. Between her job and our vacations, we've done a lot of travel. Frances' projects are mainly in the southern Philippines in Mindanao, so she's gotten used to army checkpoints, mayors with a phalanx of bodyguards and conversations that flow in and out of comprehensibility as people switch from English to Tagalog to Taglish to Cebuano and back. She has perfected her smile-and-nod routine.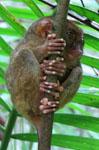 Anne and Kate visited for two weeks last Christmas and spent New Year's with us in Bohol, where we all snorkelled, thrilled over tiny tarsiers and nursed wicked sunburns, while the older generation got some gorgeous dives and learned that it's not just the innkeepers of France whose motto is "Never give a sucker an even break." This Christmas, we have only Kate is with us. Our plan is to go to a resort in El Nido, Palawan, whose extortionate rates are prepaid, so we can't say we weren't warned.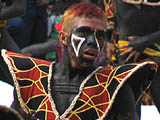 Richard was able to come down to Iloilo last January when Frances had a conference there, and we stayed on for its tremendous Dinagyang festival combining floats, costumes, drummers and 100-person dance teams in performances that skim over four centuries of history in dazzling anachronism.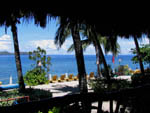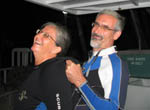 We've made about 30 dives since Bohol: many trips to Puerto Galera, Mindoro Island, where we won our Advanced Open Water certificates in August, also sampling Anilao just south of Manila, Samal Island in Mindanao, and returning to Apo Island off Negros Island for Thanksgiving. Now that we're better divers we appreciate Apo more fully: nowhere else have we seen so many kinds of coral, fish and other water life. We'd like to see more places adopting Apo's strict conservation ethic and share-the-wealth treatment of diving revenues.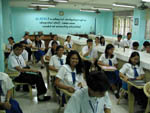 Richard has two part time teaching jobs (which tend to add up to more than full time some weeks). In the mornings he lectures or supervises labs at De la Salle University and in the afternoons he teaches Robotics at Manila Science High School. The students are very pleasant and respectful compared to Canadian students, but their academic level is more similar to gr 10 students in Canada. In the Philippines, there are only 10 years of public school before college or university. Richard has also become involved in a space and astronomy club at the university, and in robotics competitions for the high school students. There is also the Philippine Astronomical Society that holds monthly meetings and occasional overnight observing sessions.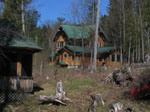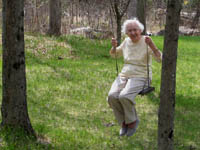 The long school holiday in the Philippines is from mid-April till the first of June, so we went back to Canada for three weeks in May, renting a cottage on the Mississippi River near Lanark so we could watch spring arrive. We revelled in dark skies, songbirds, wild turkeys and deer that came right past the cottage's big window, family time and catching up with friends. The Beaupres thoughtfully put us up for several days in Ottawa, which let us go out to a Sens playoff game. We also got to meet the new tenants for our house, who have proven to be just a dream, repainting several rooms with more care and taste than we've ever shown : ) and, we hear, keeping the garden in better shape too.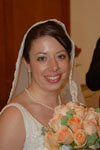 Unfortunately, because we had booked our vacation in Canada well in advance, we couldn't change the dates nor make another trip to North America when our niece Julia suddenly announced that she was getting married in June. Well, since she had met her husband-to-be on the Internet, we thought it was quite appropriate that we attended her wedding reception via the Internet. A very international celebration, with PT and his family flying in from Norway, Julia and various family coming down from Canada, us web-camming from Manila, and the whole affair hosted in Texas. It was a bit strange, though, sipping champagne and toasting the bride at 9 in the morning (our time).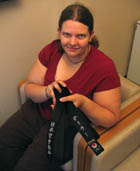 Anne has now graduated from university! This has been a very stressful year for her, but she has triumphed on many fronts. Her senior project in computer science gave her a long of headaches at the beginning of the year, and eventually she had to extend it into the summer term. But ultimately she got it finished, and received a respectable mark. In the mean time, Anne signed up for an intensive Japanese course over the summer, and spent most of her remaining spare time getting in shape for her black belt exam in karate. This all came together extremely well, so that she was prepared for a long trip to Japan in October and November. Her karate dojo organized the initial two weeks of the trip, but Anne felt "why go so far for only a couple of weeks?" so she organized an extended stay for herself. When the rest of the tour group headed back to Canada, Anne took a train way up north to Hokkaido and spent the next couple of weeks working for room and board at an organic chestnut farm. Since the host family spoke no English, her Japanese skills improved rapidly. That was of great benefit to us; we met her in Tokyo at the end of October and she was able to escort us to some more interesting off-the-beaten-path sites in southern Japan as well as leading us around the complexities of the Kyoto transit system. We had a marvellous and fascinating time (Richard took about 1500 photos, several of which are worth putting up on the wall :-)

Kate is in her last year of her Psychology degree at Trent. After her graduation next April, she'll be visiting us again for a few weeks before starting her 10th year at Camp Ouareau. We'll be moving back to Ottawa and 46 Marshall Ave. next August. Let's hope next winter isn't as bad as this one is starting to be!!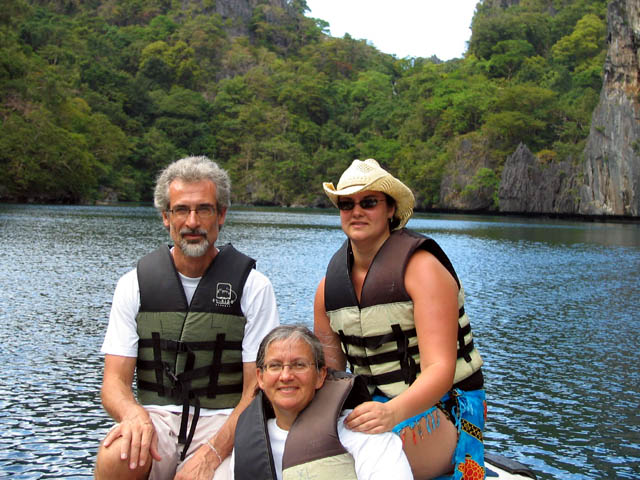 The adventure continues. Coming soon: pictures of our Christmas vacation in Palawan, and our New Year trip to try to see whale sharks at Donsol.