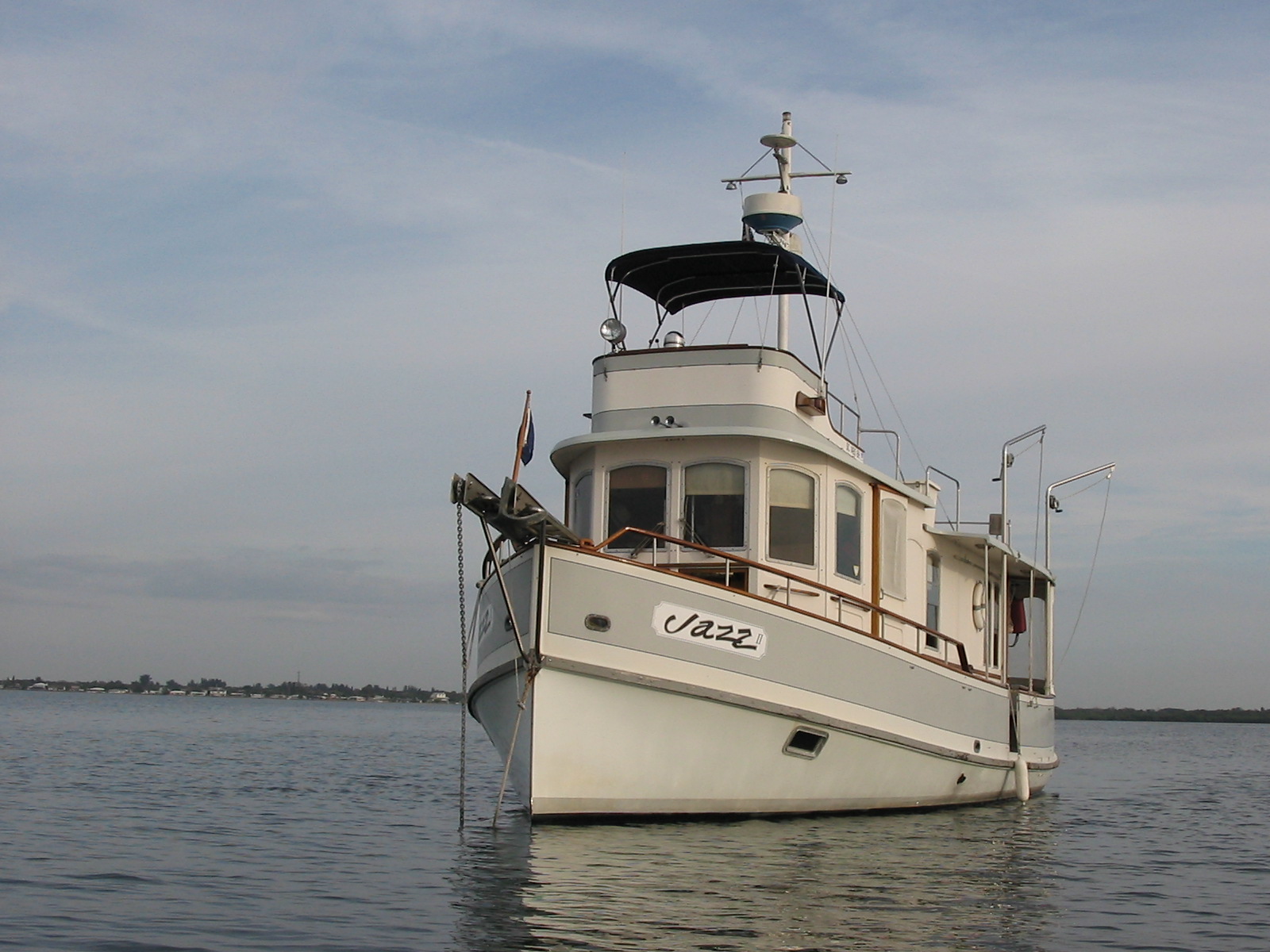 ---
Who will read this book? Anyone who wonders what it would be like to follow the seasons up and down the coast, all Trawler owners and Wannabes, everyone approaching retirement with little enthusiasm, all those who enjoy a good read and a chuckle, as well as all cat lovers everywhere.
Seven Miles An Hour
isn't
only about the pleasures of gunkholing in Florida and the Keys. There's a sudden grounding, an alligator encounter, a dragging anchor, and a cat overboard. There's the search for the green flash, making new friends in remote anchorages, a guardian angel, as well as practical advice on anchoring out, coastal cruising, and living aboard.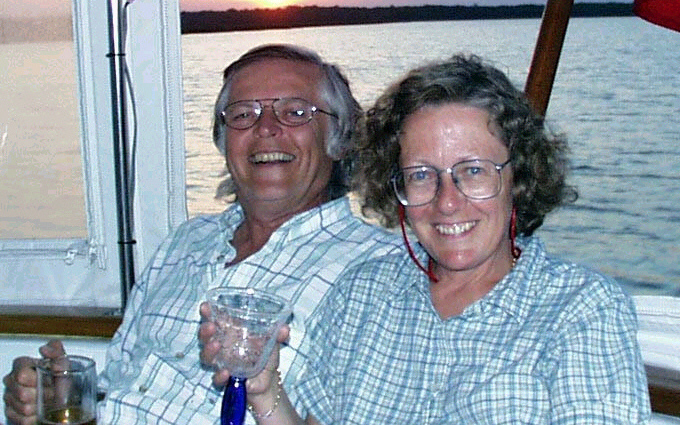 When Gillian and I retired, we sold our city house, bought a Trawler named Jazz, and headed South on the Atlantic Intra Coastal Waterway with our cats Funny Face and Zebedee.
Join us for a real-life adventure right here in the USA - exploring coastal creeks and islands in the Carolinas, Georgia, Florida and the Keys.
---
Post Script:
Gillian passed away in 2018 after a long and difficult illness. I loved her very much. She will always be part of me. We fought hard, the best doctors, the best available therapies. She even learned to box! (Helpful for many Parkinson's patients.) But the combination of Parkinson's and Lewy Body dementia teamed up on her and she died peacefully in her sleep.
She once told me if anything happened to her I should get on with my life, should get together with someone else, keep discovering, keep exploring, eyes wide open, and have someone special to share it with.
Someone to replace you? I said. I don't think so.
One of our friends, maybe, you know them and trust them.
I made a face. Like who?
Well, she said, let's see.
Suzie is bi-polar so we can rule her out.
Karen isn't available anymore, she has Harold now.
How about Wendy in Montreal? How about Deborah in Georgia?
I rolled my eyes. Gillian, stop it, this is ridiculous.
How about Lucinda in Malibu?
Lucinda, I said slowly, thinking about it.
You think? I said.
I definitely think, Gillian replied. I've seen the way she looks at you.
Huh, I said again, and we dropped the matter.
Now, a year later, Lucinda and I are together, still friends, but much more now, we are lovers and life companions, exploring together, eyes wide open, just as Gillian suggested.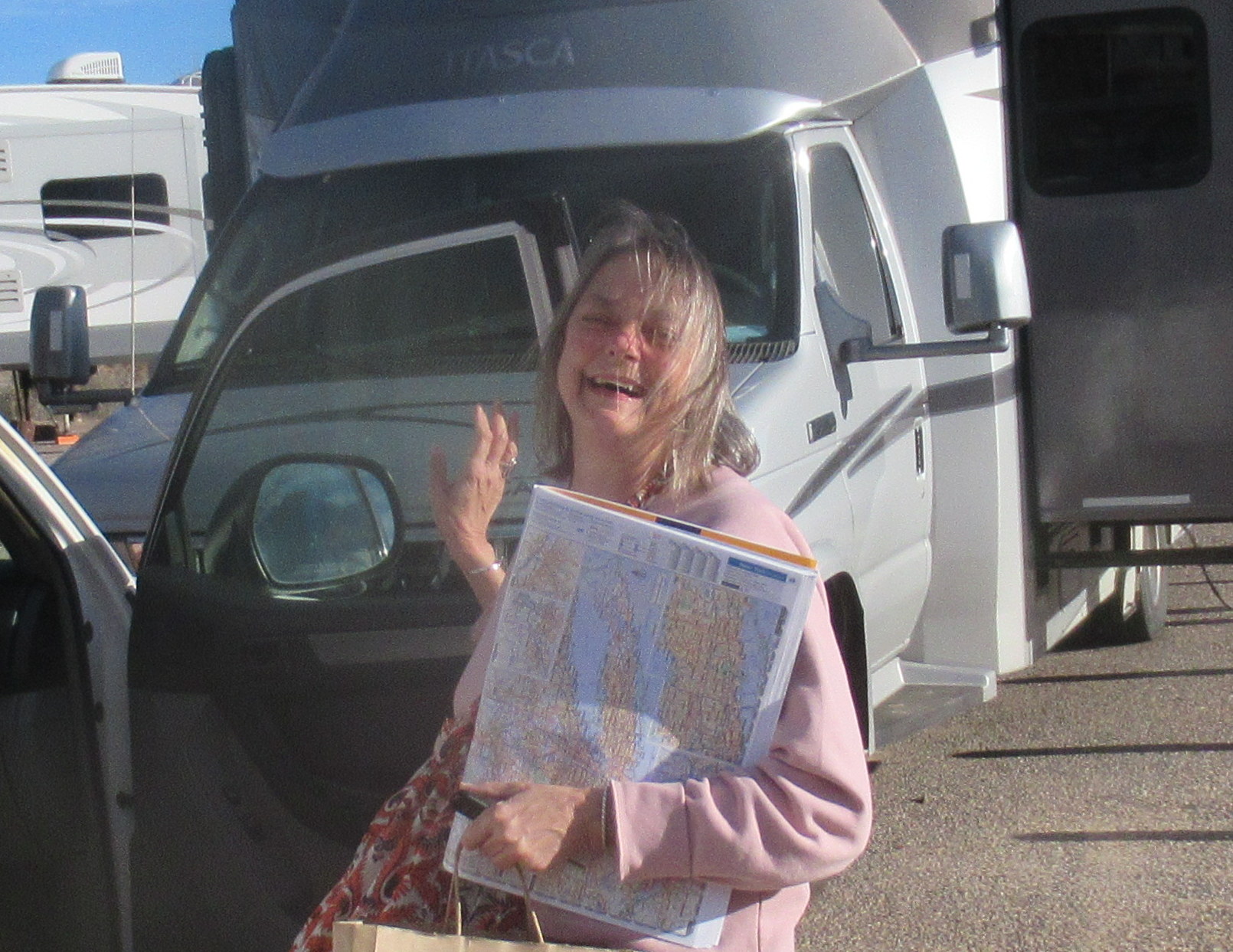 Here is Lucinda arriving to start our new life together. She had quit her job and been to the dentist for a final tooth cleaning. Then the Malibu fire destroyed nearly everything she owned, leaving a huge hole in her heart. She arrived in Albuquerque with the clothes she was wearing and a new Atlas. The shopping bag contained her little bag of loot from the hygienist. The motor home we now travel in can be seen in the background.
---
Gillian's will left money to two other friends. As her executor I wrote the checks and saw first hand the power of money to dramatically change lives.
Which gave me an idea.
Wouldn't it be cool if people started empowering strangers by leaving them money?
You know, when they've passed and don't need it anymore. Kids, charities, animal shelters, are all worthy recipients, but giving some or all of it to someone they don't even know, and totally changing that person's life by gifting them the freedom to do anything, any impossible dream at all, because money, as you know, offers freedom.
One of Gillian's girlfriends took a fantasy trip to France, another was able to retire sooner than planned.
How cool is that?
Once the idea occurred, I tried to figure out who might enjoy the simple outrageous pleasure of leaving a significant amount of freedom to a total stranger.
I suppose a person could be pissed at their kids, perhaps for taking their inheritance for granted, or being too busy, or being just plain inconsiderate.
I totally get that, and if you ever find yourself in this situation, you could surprise them by leaving your money to someone they don't even know!
But who would that be and how do you find them?
How about – and I know this is a bit off-the-wall – how about Lucinda and me?
We would be more than grateful...
No kids? No worries. Lucinda and I will be honored to stand in.
Perhaps you have an unfinished bucket list. Items you just didn't have the time to get done. Have you considered passing the responsibility to someone else? Again, Lucinda and I would be delighted to accept the challenge. Add your unfinished bucket list to your will, provide us with the necessary, and Lucinda and I will cross the finish line in your place!
If you should decide – for whatever reason – to remember us in your will, your hard-earned money won't be wasted. We solemnly pledge to spend it joyfully, with frivolous abandon, working on your bucket list if you have one, and on ours if you don't.
The best part is you will never be forgotten. Each evening at sunset, Lucinda and I will raise a glass in your honor, and say your name aloud for all to hear!
One last thought. We'll keep it going...
When it's our turn to make a will, we'll bequeath the remainder to a total stranger, repeating your act of spectacular kindness, with two simple conditions.
Our inheriting stranger must solemnly promise to - every day - raise a glass heavenward and speak your name. Secondly, when it's their turn to leave this world, they leave the remainder to another stranger with the same two conditions, and so on, generation after generation.
Your generosity – and your name – will be remembered forever!
---
Please let your executors know they can contact us at: LeaveYourMoneyToUs@outlook.com
---
Seven Miles an Hour is available from Amazon, in both Kindle and Print versions. Click Here: Seven Miles an Hour
If you prefer a brand-new printed version click here: Spiral Bound Print Version.
If you want the e-book version but don't have an actual Kindle, no worries. Amazon supplies free software so you can read their e-books on most devices. Click Here: Free e-book reader for PC etc.
---
Some Reader Comments about Seven Miles an Hour:
"A great story about boats, people, friendships, pets and cruising." Art Totman, Maine.
"I found myself being drawn into the story, oblivious to everything around me." Paul Browne, Florida.
"Interesting and amusing... I find it fascinating. If ever a life style matched what the designer had in mind when he first sketched a boat, yours is that life." H.T. Gozzard, designer of the Pilgrim 40 trawler Jazz.
"A wonderful voyage. The way it was written put me by your side every moment of the way. I thoroughly enjoyed going along with you and experiencing what I never have before." Al Soforenko, South Carolina.
"Don, just finished reading your book... Really, really enjoyed it! Great writing style, fun vignettes, and informative. " John Graboswski.
"I really enjoyed reading about your adventures. We have a Krogen 44 on order... We have been reading everything we can getting ready... Your tales are just about the best thing we've found, fun things with a dose of reality! I especially thank you for some great, practical information... " Kelton & Louisa Ogletree, Texas.
"I can't thank you enough... Reading about your experiences is proving to be invaluable; not only through the huge amount of information that you impart, but also through hearing how your wife has come to love the live-aboard life style.... Thanks for the terrific read." Carol Treitz, Waterloo.
"Don, I loved your book. Your book so relaxed me (very rare) that I slept like a rock and really didn't want to go back to the office the next day. What a wonderful jewel to find...Thanks again for showing me the way. " Linn Hynds.
"Have just now finished your book and am in a state of euphoria. Don, I've been looking at the Pilgrim on my Imac, and it causes sleepless nights! I'm afraid I might sell my house and buy a Pilgrim! ...Your account of cruising is absolutely delightful. " Gordon Crafts.
"I've read many cruising stories, but I have to say yours has been the most enjoyable... Thanks for the great read." Julie Bales.
"I loved your book...Thank you for your efforts both for the writing and for making your adventures available to others... Another thing I noticed throughout and really appreciated is your honesty: sometimes things don't go exactly as planned; sometimes things work out better than planned; sometimes people on the water aren't always nice; sometimes there is so much love and beauty in the world it just takes one's breath away. We'll be quoting you for a long time. Thank you very much for sharing your stories!" Patricia J. Ehrman, Jackson, Wyoming.